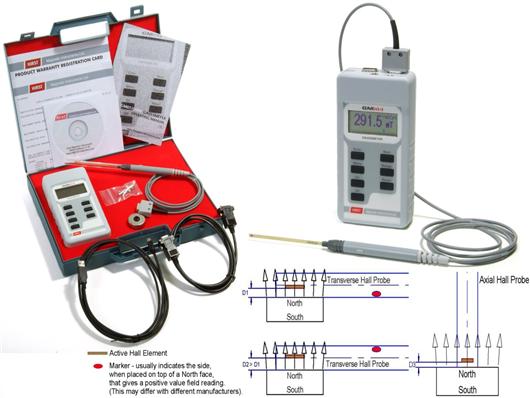 We offer a range of high quality Hand Held Gaussmeters and Hall Probes calibrated to standards traceable to the National Physical Laboratories (London, UK).

The GM07 Gaussmeter measures DC, DC Peak, AC RMS, AC RMS MAX and AC Peak fields. It has four ranges:- 0-3 Tesla, 0-299.9 mT, 0-29.99 mT and 0-2.999 mT (measurement units available are Tesla, Gauss, Amps/m and Oersted). It is supplied with a TP002 Transverse Hall Probe (with hold button), a Zero Flux Can and case (four 1.5V AA batteries are not included).
The GM08 Gaussmeter has all the features of the GM07 but also has with RS232 and USB communications and memory storage plus an uncorrected analogue output (-3V to +3V). The GMO8 stores up to 100 values. Windows communication software is supplied with the GMO8. Data can be downloaded to Excel or OpenOffice spreadsheets or to a CSV format file.

The AP002 Axial Hall Probe is fully interchangeable with the GM07/GM08 Hand Held Gaussmeters.

For any of the above items, please allow up to 2-3 weeks for delivery (if other items are ordered these will be shipped separately).
227
Part No.
Size
Grade
Pull (kg)
Quantity
Price
Buy
GM07
175mm x 89mm x 40mm plus transverse probe
Gaussmeter
N/A
GM07
175mm x 89mm x 40mm plus transverse probe
Gaussmeter
N/A

1 unit

£515.00

Out of Stock
GM08
175mm x 89mm x 40mm plus transverse probe
Gaussmeter with RS232, USB, memory storage and software
N/A
GM08
175mm x 89mm x 40mm plus transverse probe
Gaussmeter with RS232, USB, memory storage and software
N/A

1 unit

£669.50

Out of Stock
AP002
4.7mm diameter probe, 236mm total length
Axial Hall Probe - use with GM07 and GM08
N/A
AP002
4.7mm diameter probe, 236mm total length
Axial Hall Probe - use with GM07 and GM08
N/A

1 unit

£153.47

Out of Stock
GM07-AP002
175mm x 89mm x 40mm plus axial and transverse probes
Complete Gaussmeter kit (GM07 plus AP002)
N/A
GM07-AP002
175mm x 89mm x 40mm plus axial and transverse probes
Complete Gaussmeter kit (GM07 plus AP002)
N/A

1 unit

£621.76

GM08-AP002
175mm x 89mm x 40mm plus axial and transverse probes
Complete Gaussmeter kit (GM08 plus AP002)
N/A
GM08-AP002
175mm x 89mm x 40mm plus axial and transverse probes
Complete Gaussmeter kit (GM08 plus AP002)
N/A

1 unit

£776.26

Out of Stock