Precision SmCo Magnets
An Introduction to Precision SmCo Magnets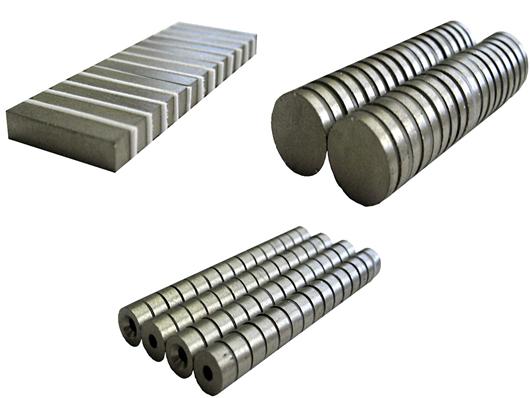 click to reduce image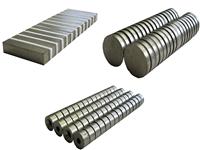 click to enlarge image
Standard magnet dimensional tolerances are +/-0.1mm, with +/-0.05mm (and, on rare occasions, +/-0.04mm) being available for an additional cost. For larger magnets +/-0.1mm tolerances may be perfectly acceptable but for very small magnets, particularly in sensitive applications e.g. sensors, even +/-0.05mm may not be ideal.

To solve this possible problem, we now offer Precision SmCo Magnets with tolerances better than +/-0.05mm through an improved production process. The shapes we offer for the Precision SmCo Magnet range are disc magnets, ring magnets and rectangular magnets. We currently offer the Precision Magnetics Range in SmCo (also known as Samarium Cobalt, CoSm, Rare Earth Cobalt, RE Cobalt, RECo) and NdFeB. The magnets are offered with axial and diametric magnetisation patterns. Each Precision Magnetic product is bespoke to the customer. The Precision SmCo Magnets are only available in small sizes and are only available in minimum order quantities (MOQ) - typically 100,000 magnets is the minimum order quantity. As the factory is streamlined for mass production (batch quantities up to millions of magnets per month), we may have to charge for samples (there may also be a MOQ on samples).

The magnet material, shape, size and magnetisation pattern will affect how accurately the magnets can be produced. The best tolerances we can offer is down to +/-0.005mm. That is down to 1/20th of the standard tolerance – hence our calling it Precision Magnetics. The tighter the tolerance on the Precision SmCo Magnet, the higher will be the cost.

As these magnets are bespoke, we will require information on the exact requirements including desired tolerances. If the shape can be produced we will contact you with a price, lead time and confirmation on tolerances that can be achieved (if the required tolerances are too tight, we will advise on the nearest realistic tolerances that can be achieved).

Example sizes (we may be able to produce smaller or larger upon request - please contact us with your requirements):-
SmCo ring:- OD 0.4mm x ID 0.135mm x 2.5mm through to OD 10.0mm x ID 2.8mm x 0.42mm.
SmCo disc:- D 0.8mm x 0.35mm through to OD 8mm x 1.5mm.
SmCo rectangle:- 1.0mm x 1.0mm x 0.8mmA through to 5.0mm x 5.0mm x 1.25mmA.

If you would like Precision SmCo Magnets, please contact us with your requirements and we will provide you with a quotation.