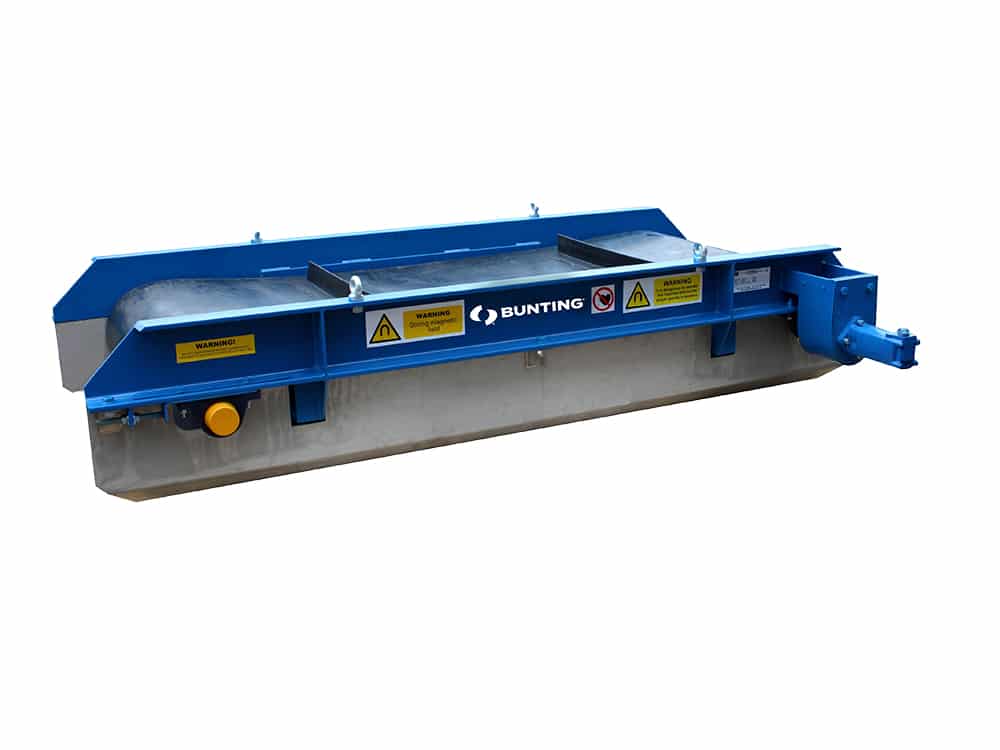 Buy Overband Magnets online with Bunting – eMagnets™
Mastermag overband separators, primarily used in the recycling and quarrying sectors, are recognised globally as being market leaders and the go-to for businesses and companies across these industries. The primary use for these separators is to provide effective and continuous removal of tramp ferrous materials from the product stream in question.
As previously mentioned, it's the quarrying and recycling industries that see the most benefit from this particular kind of magnetic separator. They are mostly used on mobile crushing machinery (indeed they were the first magnet to be designed for this specific use) and help to protect as well as clean and separate materials. They are particularly popular, partly because of the separators' self-cleaning ability which means any production downtime is limited, saving time where manual cleaning would normally be needed.
The Mastermag overband separators also prove to be cost effective, especially in situations when magnets need to function up to 400mm above the conveyor and industries across various sectors benefit greatly. Thanks to its lightweight nature and with no power source needed for the magnet to work effectively, any running costs can be kept to a minimum.
These Overband magnets can either be situated across the conveyor or indeed inline above the conveyor head pulley. Whichever model is required, maintenance needed is minimal with options to choose either a hydraulic drive or one powered by electric. A wide range of conveyor belt sizes are catered for with 150mm to 2000mm and everything in between being perfectly achievable. Anything larger (wider) than this can also be catered for; thanks to custom designs for any application in question. If further support structures are needed, these too can be produced. We are happy to paint any RAL colour at no extra cost.
If you need any more information or would like to chat to one of our overband experts, please feel free to give us a call on +44 (0)1442 875081.
Part #
Gap
Width
Drive
Leadtime
Package Quantity
Price
Quantity
PCB1005-EL
250 mm
750 mm
Electric
5 Weeks
1

£

5,245.00
PCB1005-HD
250 mm
750 mm
Hydraulic
5 Weeks
1

£

5,245.00
PCB1007-EL
250 mm
1000 mm
Electric
5 Weeks
1

£

5,870.00
PCB1007-HD
250 mm
1000 mm
Hydraulic
5 Weeks
1

£

5,870.00