The Ferrite magnets have had trade names but are now following the Chinese nomenclature
The first ferrite magnets tended to have names such as Fer 3 or Feroba 3. This is a trade name that is no longer used. Then the naming of ferrite started with the letter "C" e.g. C5 and C8. Although this is still used in USA and UK, the range of grades named is limited. Since most production of ceramic hard ferrite magnets is in China (which is where our production facility is based), Chinese nomenclature has taken over and is popularly used in UK and Europe with greater acceptance in the USA as well (the grades start with the letter "Y".
Fer 3 and Feroba 3 is now called Y30H-1. Ferrite C8 is also known as Y30H-1.
Fer 2 and Feroba 2 is now called Y30. Ferrite C5 is also known as Y30.
Most ferrite magnets are known either by their C names or by the newer Y names. Other names exist for ferrite grades e.g. HF26/18 (which is Y30) but this is a European naming convention and is not commonly used outside mainland Europe. We can supply virtually any grade of ferrite permanent magnet to your size requirements. The ferrite magnets are generally anisotropic (they have a preferred direction of magnetisation locked within their structure allowing better magnetic performance); isotropic versions (can be magnetised in any direction but has lesser performance) also exist e.g. C1, Y10T and HF8/22.
The Chinese ferrite magnet nomenclature system has a structure to it. Y is an identifier for Ceramic Magnet / Hard Ferrite Magnet. The number following it is linked to the BHmax Energy product. Any letter after the number is an additional grade identifier. There are 27 grades of ferrite magnet.
Below is an example BH curve for Ferrite C5 (Y30). Ferrite C5 and Ferrite C8 are the most popular grades of hard ferrite (ceramic) magnets.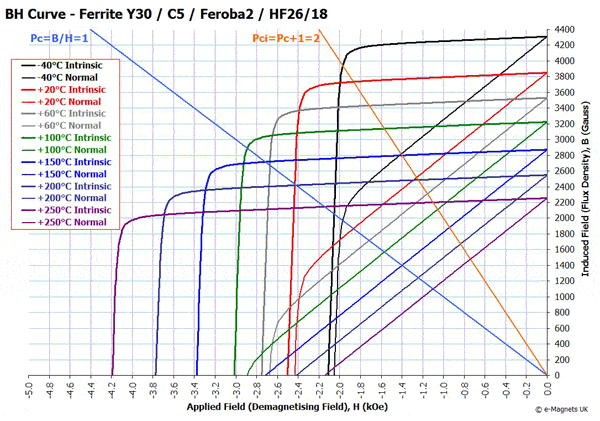 Nomenclature of Ferrite (Ceramic) Magnet grades
Chinese Standard – Commonly used globally, especially in UK and EU

Typical Range of Values

Material

Br

Hcb (Hc)

Hcj (Hci)

(BH)max

mT

kG

kA/m

kOe

kA/m

kOe

kJ/m^3

MGOe

Y8T

200-235

2.0-2.35

125-160

1.57-2.01

210-280

2.64-3.52

6.5-9.5

0.8-1.2

Y10T

200-235

2.0-2.35

128-160

1.61-2.01

210-280

2.64-3.52

6.4-9.6

0.8-1.2

Y20

320-380

3.2-3.8

135-190

1.70-2.39

140-195

1.76-2.45

18.0-22.0

2.3-2.8

Y22H

310-360

3.1-3.6

220-250

2.76-3.14

280-320

3.52-4.02

20.0-24.0

2.5-3.0

Y23

320-370

3.2-3.7

170-190

2.14-2.39

190-230

2.39-2.89

20.0-25.5

2.5-3.2

Y25

360-400

3.6-4.0

135-170

1.70-2.14

140-200

1.76-2.51

22.5-28.0

2.8-3.5

Y26H

360-390

3.6-3.9

220-250

2.76-3.14

225-255

2.83-3.20

23.0-28.0

2.9-3.5

Y26H-1

360-390

3.6-3.9

200-250

2.51-3.14

225-255

2.83-3.20

23.0-28.0

2.9-3.5

Y26H-2

360-380

3.6-3.8

263-288

3.30-3.62

318-350

4.00-4.40

24.0-28.0

3.0-3.5

Y27H

370-400

3.7-4.0

205-250

2.58-3.14

210-255

2.64-3.20

25.0-29.0

3.1-3.6

Y28

370-400

3.7-4.0

175-210

2.20-2.64

180-220

2.26-2.76

26.0-30.0

3.3-3.8

Y28H-1

380-400

3.8-4.0

240-260

3.02-3.27

250-280

3.14-3.52

27.0-30.0

3.4-3.8

Y28H-2

360-380

3.3-3.8

271-295

3.41-3.71

382-405

4.80-5.09

26.0-30.0

3.3-3.8

Y30

370-400

3.7-4.0

175-210

2.20-2.64

180-220

2.26-2.76

26.0-30.0

3.3-3.8

Y30BH

380-390

3.8-3.9

223-235

2.80-2.95

231-245

2.90-3.08

27.0-30.0

3.4-3.8

Y30H-1

380-400

3.8-4.0

230-275

2.89-3.46

235-290

2.95-3.64

27.0-32.0

3.4-4.0

Y30H-2

395-415

3.95-4.15

275-300

3.46-3.77

310-335

3.90-4.21

27.0-32.5

3.4-4.1

Y32

400-420

4.0-4.2

160-190

2.01-2.39

165-195

2.07-2.45

30.0-33.5

3.8-4.2

Y32H-1

400-420

4.0-4.2

190-230

2.39-2.89

230-250

2.89-3.14

31.5-35.0

4.0-4.4

Y32H-2

400-440

4.0-4.4

224-240

2.81-3.02

230-250

2.89-3.14

31.0-34.0

3.9-4.3

Y33

410-430

4.1-4.3

220-250

2.76-3.14

225-255

2.83-3.20

31.5-35.0

4.0-4.4

Y33H

410-430

4.1-4.3

250-270

3.14-3.39

250-275

3.14-3.46

31.5-35.0

4.0-4.4

Y34

420-440

4.2-4.4

200-230

2.51-2.89

205-235

2.58-2.95

32.5-36.0

4.1-4.5

Y35

430-450

4.3-4.5

215-239

2.70-3.00

217-241

2.73-3.03

33.1-38.2

4.2-4.8

Y36

430-450

4.3-4.5

247-271

3.10-3.41

250-274

3.14-3.44

35.1-38.3

4.4-4.8

Y38

440-460

4.4-4.6

285-305

3.58-3.83

294-310

3.69-3.90

36.6-40.6

4.6-5.1

Y40

440-460

4.4-4.6

330-354

4.15-4.45

340-360

4.27-4.52

37.5-41.8

4.7-5.3
American Standard (still in use but limited range)

Typical Range of Values

Material

Br

Hcb (Hc)

Hcj (Hci)

(BH)max

mT

kG

kA/m

kOe

kA/m

kOe

kJ/m^3

MGOe

C1

230

2.3

148

1.86

258

3.5

8.36

1.05

C5

380

3.8

191

2.4

199

2.5

27

3.4

C7

340

3.4

258

3.23

318

4

21.9

2.75

C8 / C8A

385

3.85

235

2.95

242

3.05

27.8

3.5

C8B

420

4.2

232

2.913

236

2.96

32.8

4.12

C9

380

3.8

280

3.516

320

4.01

26.4

3.32

C10

400

4

280

3.52

284

3.57

30.4

3.82

C11

430

4.3

200

2.512

204

2.56

34.4

4.32

C12

400

4

290

3.65

318

4

32

4
European Standard (still in use but rarely outside mainland Europe)

Minimum/Typical Values

Material

Br

Hcb (Hc)

Hcj (Hci)

(BH)max

mT

kG

kA/m

kOe

kA/m

kOe

kJ/m^3

MGOe

HF8/22

200/220

2.00/2.20

125/140

1.57/1.76

220/230

2.76/2.89

6.5/6.8

0.8/1.1

HF20/19

320/333

3.20/3.33

170/190

2.14/2.39

190/200

2.39/2.51

20.0/21.0

2.5/2.7

HF20/28

310/325

3.10/3.25

220/230

2.76/2.89

280/290

3.52/3.64

20.0/21.0

2.5/2.7

HF22/30

350/365

3.50/3.65

255/265

3.20/3.33

290/300

3.64/3.77

22.0/23.5

2.8/3.0

HF24/16

350/365

3.50/3.65

155/175

1.95/2.20

160/180

2.01/2.26

24.0/25.5

3.0/3.2

HF24/23

350/365

3.50/3.65

220/230

2.76/2.89

230/240

2.89/3.01

24.0/25.5

3.0/3.2

HF24/35

360/370

3.60/3.70

260/270

3.27/3.39

350/360

4.40/4.52

24.0/25.5

3.0/3.2

HF26/16

370/380

3.70/3.80

155/175

1.95/2.20

160/180

2.01/2.26

26.0/27.0

3.2/3.4

HF26/18

370/380

3.70/3.80

175/185

2.20/2.33

180/190

2.26/2.39

26.0/27.0

3.3/3.4

HF26/24

370/380

3.70/3.80

230/240

2.89/3.01

240/250

3.01/3.14

26.0/27.0

3.3/3.4

HF26/26

370/380

3.70/3.80

230/240

2.89/3.01

260/270

3.27/3.39

26.0/27.0

3.3/3.4

HF26/30

385/395

3.85/3.95

260/270

3.27/3.39

300/310

3.77/3.89

26.0/27.0

3.3/3.4

HF28/26

385/395

3.85/3.95

250/265

3.14/3.33

260/275

3.27/3.45

28.0/30.0

3.5/3.8

HF28/28

385/395

3.85/3.95

260/270

3.27/3.39

280/290

3.50/3.60

28.0/30.0

3.5/3.8

HF30/26

395/405

3.95/4.05

250/260

3.14/3.33

260/270

3.27/3.39

30.0/31.5

3.8/3.9

HF32/17

410/420

4.10/4.20

160/170

2.01/2.14

165/175

2.07/2.20

32.0/33.0

4.0/4.1

HF32/22

410/420

4.10/4.20

215/225

2.70/2.83

220/230

2.76/2.89

32.0/33.0

4.0/4.1

HF32/25

410/420

4.10/4.20

240/250

3.01/3.14

250/260

3.14/3.27

32.0/33.0

4.0/4.1
Quick cross reference:-
C5 = Feroba 2 = Fer 2 = HF26/18 = Y30
C8/C8A = Feroba 3 = Fer 3 = Y30H-1
C1 = Y8T / Y10T
C7 = Y26H-2
C8B = Y33
C9 = Y30H-2
C10 = Y33H
C11 = Y34
C12 = Y30H-2