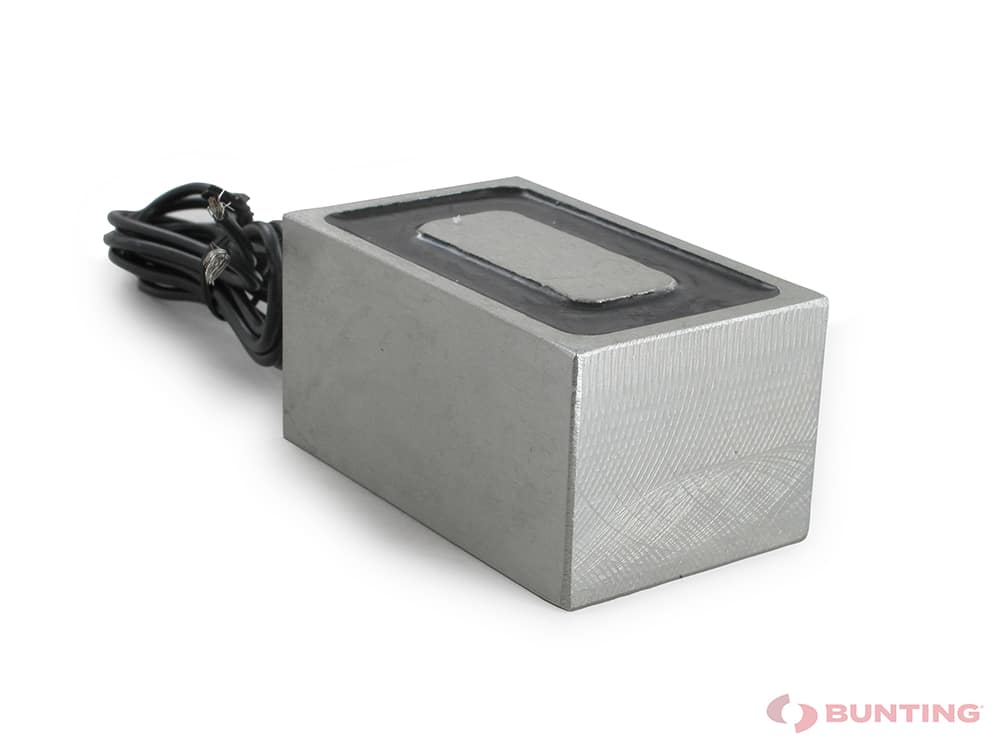 Rectangular Electromagnets 12 Volt
Buy Rectangular Electromagnets 12 Volt online with Bunting – eMagnets™
The E-Magnets UK range of 12 Volt rectangular Electromagnets.
Comprising of 5 standard sizes with a pull ranging from 90 to a huge 905 Kgs.
Internally threaded for mounting.
These electromagnets can be used on their own or in groups.
Please Note : Only to be used when in full face to face contact with a section of magnetic material as a gap of only 0.1mm will result in a drop off in performance of around 90%. This includes paints and non-magnetic coatings.
Part #
Length
Width
Depth
Mounting Type
Voltage
Ampage
Pull (Kgs)
Package Quantity
Price
Quantity
BRE-1525-12
2 1/2 Inch
1 1/2 Inch
1 1/4 Inch
Threaded Mounting
12 Volt
0.4 Amp
90 Kgs
1

£

63.17
BRE-2525-12
2 1/2 Inch
2 1/2 Inch
1 1/2 Inch
Threaded Mounting
12 Volt
0.6 Amp
200 Kgs
1

£

132.16
BRE-2545-12
4 1/2 Inch
2 1/2 Inch
2 Inch
Threaded Mounting
12 Volt
0.8 Amp
340 Kgs
1

£

123.85
BRE-3060-12
6 Inch
3 Inch
2 Inch
Threaded Mounting
12 Volt
2.7 Amp
450 Kgs
1

£

148.63
BRE-4080-110
8 Inch
4 Inch
2 1/2 Inch
Threaded Mounting
110 Volt
0.38 Amp
905 Kgs
1

£

272.48