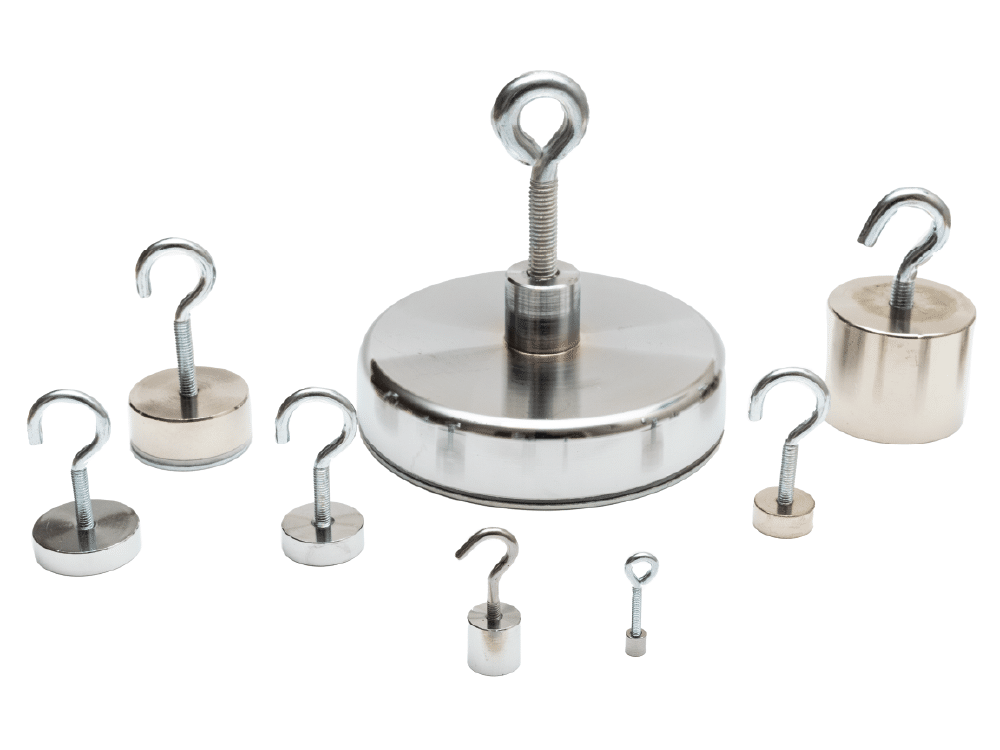 Elevate Your Organisation with Hook Magnets
Hook Magnets are the go-to solution for magnetic versatility and seamless organisation. These potent pot magnets with built-in hooks are designed to simplify your life while delivering unbeatable magnetic performance.
Key Features of Our Hook Magnets: 
Pot Magnet Base: The heart of our Hook Magnets features robust pot magnets, ensuring superior strength and reliability.
Hooks: These magnets come with hooks that are incredibly adaptable for various applications.
Durable Construction: Crafted from top-quality materials, our Hook Magnets are engineered to withstand time, offering long-lasting functionality.
Example Applications: 
Kitchen Bliss: Optimise your kitchen space by using Hook Magnets to hang pots, pans, and cooking utensils, keeping your culinary workspace tidy and efficient.
Workshop Organisation: Streamline your workshop by securing tools, cables, and equipment with Hook Magnets, creating a clutter-free and efficient workspace.
Retail Displays: Create captivating retail displays by effortlessly suspending signage, banners, or products using built-in hooks, drawing attention to your merchandise.
Artistic Expression: Showcase your creativity by displaying art, photos, or crafts with ease, ensuring they stay securely in place with Hook Magnets.
DIY Projects: Simplify home improvement and DIY tasks by having essential tools readily accessible on metal surfaces, making your projects more convenient and productive.
Experience the transformational power of Hook Magnets and revolutionise your space. Order now to unlock endless possibilities for a more organised and efficient environment.
Part #
Diameter
Depth
Thread Size
Pull (kg)
Coating
Material
Mounting
Package Quantity
Price
Quantity
E135-H
20mm
16mm
M4
14
Chrome
Neodymium
Internal threaded
1

£

6.31
E605-H
15mm
15mm
M4
5
Chrome
Neodymium
Internal threaded
1

£

4.39

Quantity Discount Pricing
Prices per number of Packs
Min
Max
£ / Pack
£ / Magnet
1
9
£4.39
£4.3900
10
24
£3.79
£3.7900
25
49
£3.61
£3.6100
50
£3.25
£3.2500

E606-H
18.9mm
8mm
M5
9.2
Chrome
Neodymium
Internal threaded
1

£

5.04

Quantity Discount Pricing
Prices per number of Packs
Min
Max
£ / Pack
£ / Magnet
1
9
£5.04
£5.0400
10
24
£4.33
£4.3300
25
49
£4.12
£4.1200
50
£3.71
£3.7100

E612-H
20mm
15mm
M4
12
Chrome
Neodymium
Internal threaded
1

£

5.82

Quantity Discount Pricing
Prices per number of Packs
Min
Max
£ / Pack
£ / Magnet
1
9
£5.82
£5.8200
10
24
£5.25
£5.2500
25
49
£4.98
£4.9800
50
£4.46
£4.4600

E612B-H
20mm
16mm
M4
12.6
Chrome
Neodymium
Internal threaded
1

£

5.06
E615-H
32mm
8mm
M5
15.4
Chrome
Neodymium
Internal threaded
1

£

4.19

Quantity Discount Pricing
Prices per number of Packs
Min
Max
£ / Pack
£ / Magnet
1
9
£4.19
£4.1900
10
24
£3.71
£3.7100
25
49
£3.53
£3.5300
50
£3.18
£3.1800

E616-H
25mm
8mm
M5
12
Chrome
Neodymium
Internal threaded
1

£

3.80

Quantity Discount Pricing
Prices per number of Packs
Min
Max
£ / Pack
£ / Magnet
1
9
£3.80
£3.8000
10
24
£3.33
£3.3300
25
49
£3.18
£3.1800
50
£2.87
£2.8700

E712-H
25mm
7mm
M4
4
Chrome
Ferrite
Internal threaded stud
1

£

1.84

Quantity Discount Pricing
Prices per number of Packs
Min
Max
£ / Pack
£ / Magnet
1
49
£1.84
£1.8400
50
99
£1.53
£1.5300
100
249
£1.41
£1.4100
250
499
£1.24
£1.2400
500
£1.12
£1.1200

E715-H
50mm
10mm
M4
22
Chrome
Ferrite
Internal threaded stud
1

£

7.13

Quantity Discount Pricing
Prices per number of Packs
Min
Max
£ / Pack
£ / Magnet
1
49
£7.13
£7.1300
50
99
£6.18
£6.1800
100
249
£5.05
£5.0500
250
£4.30
£4.3000

E718-H
80mm
18mm
M10
60
Chrome
Ferrite
Internal threaded stud
1

£

9.70

Quantity Discount Pricing
Prices per number of Packs
Min
Max
£ / Pack
£ / Magnet
1
49
£9.70
£9.7000
50
99
£8.31
£8.3100
100
249
£7.59
£7.5900
250
499
£6.50
£6.5000
500
£5.77
£5.7700

E725-H
125mm
26mm
M10
130
Chrome
Ferrite
Internal threaded stud
1

£

17.74

Quantity Discount Pricing
Prices per number of Packs
Min
Max
£ / Pack
£ / Magnet
1
49
£17.74
£17.7400
50
99
£16.78
£16.7800
100
249
£16.30
£16.3000
250
499
£13.47
£13.4700
500
£11.58
£11.5800

E726-H
30mm
10mm
M6
26
Nickel
Neodymium
Internal threaded
1

£

4.84

Quantity Discount Pricing
Prices per number of Packs
Min
Max
£ / Pack
£ / Magnet
1
9
£4.84
£4.8400
10
24
£4.52
£4.5200
25
49
£4.42
£4.4200
50
£4.26
£4.2600

E727-H
40mm
15mm
M6
45
Zinc
Neodymium
Internal threaded
1

£

9.97

Quantity Discount Pricing
Prices per number of Packs
Min
Max
£ / Pack
£ / Magnet
1
4
£9.97
£9.9700
5
9
£9.00
£9.0000
10
24
£8.36
£8.3600
25
£7.47
£7.4700

E1011-H
50mm
40mm
M6
25
Painted
Alnico
Internal threaded
1

£

38.86

Quantity Discount Pricing
Prices per number of Packs
Min
Max
£ / Pack
£ / Magnet
1
4
£38.86
£38.8600
5
9
£36.24
£36.2400
10
24
£34.09
£34.0900
25
£30.17
£30.1700

E1012-H
40mm
15mm
M6
45
Nickel
Neodymium
Internal threaded
1

£

9.97

Quantity Discount Pricing
Prices per number of Packs
Min
Max
£ / Pack
£ / Magnet
1
4
£9.97
£9.9700
5
9
£9.00
£9.0000
10
24
£8.36
£8.3600
25
£7.47
£7.4700

E1013-H
50mm
40mm
M8
50
Nickel
Neodymium
Internal threaded
1

£

21.21

Quantity Discount Pricing
Prices per number of Packs
Min
Max
£ / Pack
£ / Magnet
1
4
£21.21
£21.2100
5
9
£19.25
£19.2500
10
24
£17.95
£17.9500
25
£15.99
£15.9900

E1014-H
15mm
15mm
M6
4.8
Nickel
SmCo
Internal threaded
1

£

12.23
E1015-H
20mm
20mm
M6
9.2
Nickel
SmCo
Internal threaded
1

£

28.00
E1016-H
6mm
6mm
M3
1
Chrome
Neodymium
Internal threaded
1

£

4.42

Quantity Discount Pricing
Prices per number of Packs
Min
Max
£ / Pack
£ / Magnet
1
9
£4.42
£4.4200
10
24
£3.93
£3.9300
25
49
£3.73
£3.7300
50
£3.34
£3.3400

E1029-H
32mm
7mm
M4
7.5
Painted
Ferrite
Internal threaded stud
1

£

6.42

Quantity Discount Pricing
Prices per number of Packs
Min
Max
£ / Pack
£ / Magnet
1
9
£6.42
£6.4200
10
24
£5.89
£5.8900
25
£5.56
£5.5600

E1031-H
25mm
7mm
M5
3.6
Zinc
Ferrite
Threaded through hole
1

£

2.64

Quantity Discount Pricing
Prices per number of Packs
Min
Max
£ / Pack
£ / Magnet
1
9
£2.64
£2.6400
10
24
£2.30
£2.3000
25
49
£2.21
£2.2100
50
£2.01
£2.0100

E1032-H
50mm
10mm
M6
17
Zinc
Ferrite
Threaded through hole
1

£

5.75

Quantity Discount Pricing
Prices per number of Packs
Min
Max
£ / Pack
£ / Magnet
1
9
£5.75
£5.7500
10
24
£5.08
£5.0800
25
49
£4.84
£4.8400
50
£4.36
£4.3600

E1033-H
63mm
14mm
M8
35
Zinc
Ferrite
Threaded through hole
1

£

5.53

Quantity Discount Pricing
Prices per number of Packs
Min
Max
£ / Pack
£ / Magnet
1
4
£5.53
£5.5300
5
9
£5.14
£5.1400
10
24
£4.62
£4.6200
25
£4.23
£4.2300

E1034-H
80mm
20mm
M8
55
Zinc
Ferrite
Threaded through hole
1

£

8.14

Quantity Discount Pricing
Prices per number of Packs
Min
Max
£ / Pack
£ / Magnet
1
9
£8.14
£8.1400
10
24
£7.17
£7.1700
25
49
£6.84
£6.8400
50
£6.19
£6.1900

E1035-H
20mm
16mm
M5
12
Nickel
SmCo
Internal threaded
1

£

23.04

Quantity Discount Pricing
Prices per number of Packs
Min
Max
£ / Pack
£ / Magnet
1
9
£23.04
£23.0400
10
24
£20.35
£20.3500
25
49
£18.78
£18.7800
50
£17.87
£17.8700

E1036-H
32mm
8mm
M5
9.2
Nickel
SmCo
Internal threaded
1

£

9.72
E1037-H
25mm
8mm
M5
7.2
Nickel
SmCo
Internal threaded
1

£

7.24

Quantity Discount Pricing
Prices per number of Packs
Min
Max
£ / Pack
£ / Magnet
1
9
£7.24
£7.2400
10
24
£4.32
£4.3200
25
49
£4.22
£4.2200
50
£4.06
£4.0600

E1043-H
32mm
7mm
M4
7.5
Zinc
Ferrite
Threaded through hole
1

£

2.45

Quantity Discount Pricing
Prices per number of Packs
Min
Max
£ / Pack
£ / Magnet
1
9
£2.45
£2.4500
10
24
£2.14
£2.1400
25
49
£2.05
£2.0500
50
£1.87
£1.8700