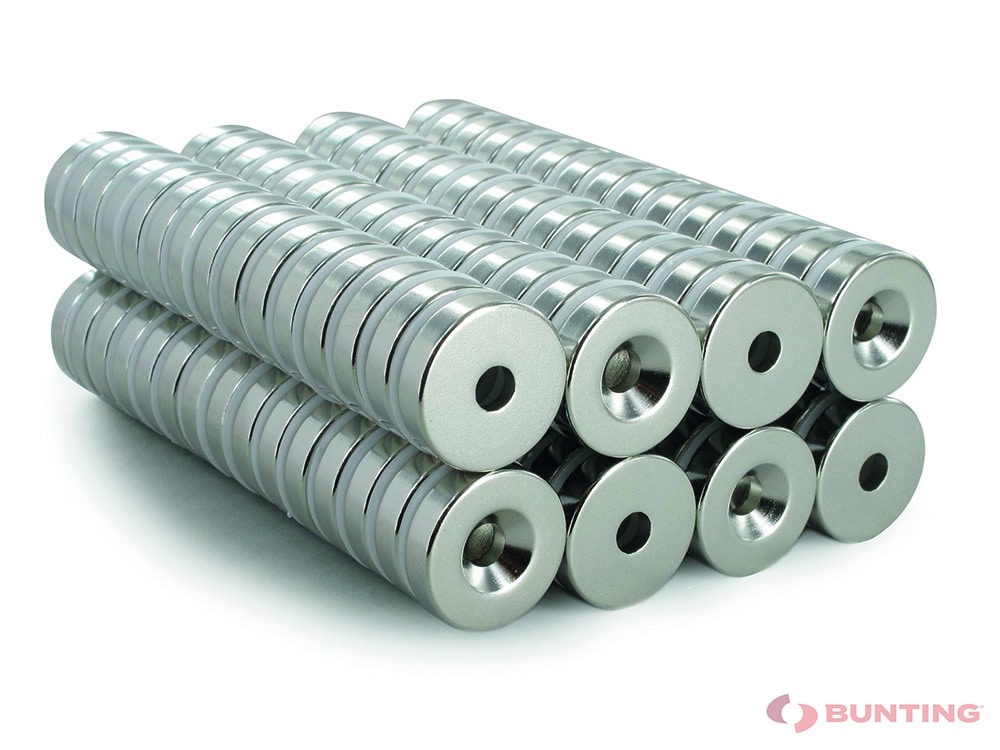 Buy Ring Magnets online with Bunting – eMagnets™
Neodymium Iron Boron (NdFeB) is used to manufacture the most powerful magnets per unit volume that are commercially available today. They are used where a small size and maximum power are needed.
Neodymium Magnets exert very high forces and can attract each other through unbelievably large distances making them very popular for a wide range of applications including furniture manufacturing, joinery, design and display, security, lighting, or for any application where mechanical fixing is required.
Depending on the application, it may be a requirement to have a hole inside the disc magnet. This is sometimes called a ring magnet. Although the hole can be placed at nearly any position on the disc (e.g. as part of the Made to Order range), the hole is almost always centrally located. The ring magnet is used for fixing the magnet to another item (as part of an assembly) or is used (particularly with large ring magnets) to make use of the parallel magnetic field within the aperture of the ring.
Many of these discs with central holes (ring magnets) have countersunk holes for ease of fixing with a countersunk screw. Please note that these countersunk ring magnets have the magnetic pole on the countersunk face stated. If using a countersunk disc with central hole magnet (countersunk ring magnet) to attract a piece of mild steel, any magnet polarity can be used but if two countersunk face magnets are being used to attract each other via contact between the countersunk faces then one magnet must have a South countersunk face and the other magnet must have a North countersunk face (applying the rule of unlike Poles attract).
They also have an immense and unbeatable resistance to being demagnetised (they have a higher permeance coefficient than a same-sized disc magnet), making them ideal for repulsion applications as well as attraction applications.
The magnets are triple coated (NiCuNi) for maximum protection against corrosion. Standard manufacturing tolerance is +/- 0.1mm on all dimensions.
If you need discs with central holes (ring magnets) of different dimensions and/or with specific countersunk requirements, please get in touch.
Part #
Diameter
Depth
Hole Size
Hole Type
Pull (Kgs)
Coating
Pole Face
Material
Grade
Package Quantity
Price
Quantity
EP300
6 mm
5 mm
2 mm
Through
1.3kg
NiCuNi
na
Neodymium
N42
10

£

4.39

Quantity Discount Pricing
Prices per number of Packs
Min
Max
£ / Pack
£ / Magnet
1
9
£4.39
£0.4390
10
19
£3.30
£0.3300
20
49
£2.86
£0.2860
50
£2.63
£0.2630

EP301A
10 mm
5 mm
3.2 mm
Countersunk
2.1kg
NiCuNi
North
Neodymium
N42
10

£

9.71

Quantity Discount Pricing
Prices per number of Packs
Min
Max
£ / Pack
£ / Magnet
1
9
£9.71
£0.9710
10
19
£8.21
£0.8210
20
49
£7.30
£0.7300
50
£5.70
£0.5700

EP301AN52
10 mm
5 mm
3.2 mm
Countersunk
3.32kg
NiCuNi
North
Neodymium
N52
10

£

11.52

Quantity Discount Pricing
Prices per number of Packs
Min
Max
£ / Pack
£ / Magnet
1
9
£11.52
£1.1520
10
19
£9.78
£0.9780
20
49
£8.71
£0.8710
50
£6.83
£0.6830

EP301B
10 mm
5 mm
3.2 mm
Countersunk
2.1kg
NiCuNi
South
Neodymium
N42
10

£

9.71

Quantity Discount Pricing
Prices per number of Packs
Min
Max
£ / Pack
£ / Magnet
1
9
£9.71
£0.9710
10
19
£8.21
£0.8210
20
49
£7.30
£0.7300
50
£5.70
£0.5700

EP301BN52
10 mm
5 mm
3.2 mm
Countersunk
3.32kg
NiCuNi
South
Neodymium
N52
10

£

11.52

Quantity Discount Pricing
Prices per number of Packs
Min
Max
£ / Pack
£ / Magnet
1
9
£11.52
£1.1520
10
19
£9.78
£0.9780
20
49
£8.71
£0.8710
50
£6.83
£0.6830

EP312A
20 mm
2 mm
3 mm
Countersunk
2.2kg
NiCuNi
North
Neodymium
N42
5

£

10.25

Quantity Discount Pricing
Prices per number of Packs
Min
Max
£ / Pack
£ / Magnet
1
4
£10.25
£2.0500
5
9
£9.12
£1.8240
10
19
£8.02
£1.6040
20
£6.92
£1.3840

EP312AN52
20 mm
2 mm
3 mm
Countersunk
3.46kg
NiCuNi
North
Neodymium
N52
5

£

12.18

Quantity Discount Pricing
Prices per number of Packs
Min
Max
£ / Pack
£ / Magnet
1
4
£12.18
£2.4360
5
9
£10.85
£2.1700
10
19
£9.57
£1.9140
20
£8.24
£1.6480

EP312B
20 mm
2 mm
3 mm
Countersunk
2.2kg
NiCuNi
South
Neodymium
N42
5

£

10.25

Quantity Discount Pricing
Prices per number of Packs
Min
Max
£ / Pack
£ / Magnet
1
4
£10.25
£2.0500
5
9
£9.12
£1.8240
10
19
£8.02
£1.6040
20
£6.92
£1.3840

EP312BN52
20 mm
2 mm
3 mm
Countersunk
3.46kg
NiCuNi
South
Neodymium
N52
5

£

12.18

Quantity Discount Pricing
Prices per number of Packs
Min
Max
£ / Pack
£ / Magnet
1
4
£12.18
£2.4360
5
9
£10.85
£2.1700
10
19
£9.57
£1.9140
20
£8.24
£1.6480

EP313A
25 mm
5 mm
6 mm
Countersunk
8.2kg
NiCuNi
North
Neodymium
N42
1

£

4.28

Quantity Discount Pricing
Prices per number of Packs
Min
Max
£ / Pack
£ / Magnet
1
9
£4.28
£4.2800
10
19
£3.99
£3.9900
20
39
£3.71
£3.7100
40
£3.36
£3.3600

EP313B
25 mm
5 mm
6 mm
Countersunk
8.2kg
NiCuNi
South
Neodymium
N42
1

£

4.28

Quantity Discount Pricing
Prices per number of Packs
Min
Max
£ / Pack
£ / Magnet
1
9
£4.28
£4.2800
10
19
£3.99
£3.9900
20
£3.71
£3.7100

EP314
20 mm
10 mm
6 mm
Countersunk
9.4kg
NiCuNi
North
Neodymium
N42
1

£

5.99

Quantity Discount Pricing
Prices per number of Packs
Min
Max
£ / Pack
£ / Magnet
1
9
£5.99
£5.9900
10
19
£5.39
£5.3900
20
39
£5.07
£5.0700
40
£4.51
£4.5100

EP315
20 mm
10 mm
6 mm
Countersunk
9.4kg
NiCuNi
South
Neodymium
N42
1

£

5.99

Quantity Discount Pricing
Prices per number of Packs
Min
Max
£ / Pack
£ / Magnet
1
9
£5.99
£5.9900
10
19
£5.39
£5.3900
20
39
£5.07
£5.0700
40
£4.51
£4.5100

EP326
6 mm
6 mm
3 mm
Through
1.2kg
22K Gold
na
Neodymium
N42
10

£

5.12

Quantity Discount Pricing
Prices per number of Packs
Min
Max
£ / Pack
£ / Magnet
1
9
£5.12
£0.5120
10
19
£3.84
£0.3840
20
49
£3.34
£0.3340
50
£3.07
£0.3070

EP338A
15 mm
2 mm
3 mm
Countersunk
1.5kg
NiCuNi
North
Neodymium
N42
5

£

7.14

Quantity Discount Pricing
Prices per number of Packs
Min
Max
£ / Pack
£ / Magnet
1
4
£7.14
£1.4280
5
9
£5.42
£1.0840
10
19
£4.85
£0.9700
20
£4.28
£0.8560

EP338B
15 mm
2 mm
3 mm
Countersunk
1.5kg
NiCuNi
South
Neodymium
N42
5

£

7.14

Quantity Discount Pricing
Prices per number of Packs
Min
Max
£ / Pack
£ / Magnet
1
4
£7.14
£1.4280
5
9
£5.42
£1.0840
10
19
£4.85
£0.9700
20
£4.28
£0.8560

EP367A
20 mm
4 mm
5.2 mm
Countersunk
4.8kg
NiCuNi
North
Neodymium
N42
2

£

6.03

Quantity Discount Pricing
Prices per number of Packs
Min
Max
£ / Pack
£ / Magnet
1
9
£6.03
£3.0150
10
19
£5.60
£2.8000
20
39
£4.91
£2.4550
40
£4.25
£2.1250

EP367B
20 mm
4 mm
5.2 mm
Countersunk
4.8kg
NiCuNi
South
Neodymium
N42
2

£

6.03

Quantity Discount Pricing
Prices per number of Packs
Min
Max
£ / Pack
£ / Magnet
1
9
£6.03
£3.0150
10
19
£5.60
£2.8000
20
39
£4.91
£2.4550
40
£4.25
£2.1250

EP373A
10 mm
2 mm
3 mm
Countersunk
0.9kg
NiCuNi
North
Neodymium
N42
10

£

5.65

Quantity Discount Pricing
Prices per number of Packs
Min
Max
£ / Pack
£ / Magnet
1
9
£5.65
£0.5650
10
19
£5.02
£0.5020
20
49
£4.57
£0.4570
50
£4.11
£0.4110

EP373B
10 mm
2 mm
3 mm
Countersunk
0.9kg
NiCuNi
South
Neodymium
N42
10

£

5.65

Quantity Discount Pricing
Prices per number of Packs
Min
Max
£ / Pack
£ / Magnet
1
9
£5.65
£0.5650
10
19
£5.02
£0.5020
20
49
£4.57
£0.4570
50
£4.11
£0.4110

EP374A
20 mm
5 mm
5 mm
Countersunk
5.8kg
NiCuNi
North
Neodymium
N42
2

£

6.90

Quantity Discount Pricing
Prices per number of Packs
Min
Max
£ / Pack
£ / Magnet
1
9
£6.90
£3.4500
10
19
£6.17
£3.0850
20
39
£5.52
£2.7600
40
£5.02
£2.5100

EP374AN52
20 mm
5 mm
5.2 mm
Countersunk
9.17kg
NiCuNi
North
Neodymium
N52
2

£

8.22

Quantity Discount Pricing
Prices per number of Packs
Min
Max
£ / Pack
£ / Magnet
1
9
£8.22
£4.1100
10
19
£7.34
£3.6700
20
39
£6.56
£3.2800
40
£5.97
£2.9850

EP374B
20 mm
5 mm
5 mm
Countersunk
5.8kg
NiCuNi
South
Neodymium
N42
2

£

6.90

Quantity Discount Pricing
Prices per number of Packs
Min
Max
£ / Pack
£ / Magnet
1
9
£6.90
£3.4500
10
19
£6.17
£3.0850
20
39
£5.52
£2.7600
40
£5.02
£2.5100

EP374BN52
20 mm
5 mm
5.2 mm
Countersunk
9.17kg
NiCuNi
South
Neodymium
N52
2

£

8.22

Quantity Discount Pricing
Prices per number of Packs
Min
Max
£ / Pack
£ / Magnet
1
9
£8.22
£4.1100
10
19
£7.34
£3.6700
20
39
£6.56
£3.2800
40
£5.97
£2.9850

EP387
10 mm
2 mm
5 mm
Through
0.7kg
NiCuNi
na
Neodymium
N42
10

£

4.39

Quantity Discount Pricing
Prices per number of Packs
Min
Max
£ / Pack
£ / Magnet
1
9
£4.39
£0.4390
10
19
£3.30
£0.3300
20
49
£2.86
£0.2860
50
£2.63
£0.2630

EP388
15 mm
3 mm
8 mm
Through
1.3kg
NiCuNi
na
Neodymium
N42
5

£

5.09

Quantity Discount Pricing
Prices per number of Packs
Min
Max
£ / Pack
£ / Magnet
1
4
£5.09
£1.0180
5
9
£4.46
£0.8920
10
19
£3.96
£0.7920
20
£3.57
£0.7140

EP389
20 mm
3 mm
15 mm
Through
1.0kg
NiCuNi
na
Neodymium
N42
2

£

4.07

Quantity Discount Pricing
Prices per number of Packs
Min
Max
£ / Pack
£ / Magnet
1
9
£4.07
£2.0350
10
19
£3.57
£1.7850
20
39
£3.17
£1.5850
40
£2.86
£1.4300

EP391G
24 mm
8 mm
12 mm
Through
9.1kg
22K Gold
na
Neodymium
N42
1

£

6.27

Quantity Discount Pricing
Prices per number of Packs
Min
Max
£ / Pack
£ / Magnet
1
9
£6.27
£6.2700
10
19
£5.49
£5.4900
20
39
£4.87
£4.8700
40
£4.39
£4.3900

EP391N
24 mm
8 mm
12 mm
Through
9.1kg
NiCuNi
na
Neodymium
N42
1

£

5.25

Quantity Discount Pricing
Prices per number of Packs
Min
Max
£ / Pack
£ / Magnet
1
9
£5.25
£5.2500
10
19
£4.59
£4.5900
20
39
£4.08
£4.0800
40
£3.68
£3.6800

EP651A
23 mm
20 mm
6 mm
Countersunk
23.2kg
NiCuNi
North
Neodymium
N42
1

£

17.06

Quantity Discount Pricing
Prices per number of Packs
Min
Max
£ / Pack
£ / Magnet
1
9
£17.06
£17.0600
10
19
£15.92
£15.9200
20
39
£14.78
£14.7800
40
£13.64
£13.6400

EP651B
23 mm
20 mm
6 mm
Countersunk
23.2kg
NiCuNi
South
Neodymium
N42
1

£

17.06

Quantity Discount Pricing
Prices per number of Packs
Min
Max
£ / Pack
£ / Magnet
1
9
£17.06
£17.0600
10
19
£15.92
£15.9200
20
39
£14.78
£14.7800
40
£13.64
£13.6400