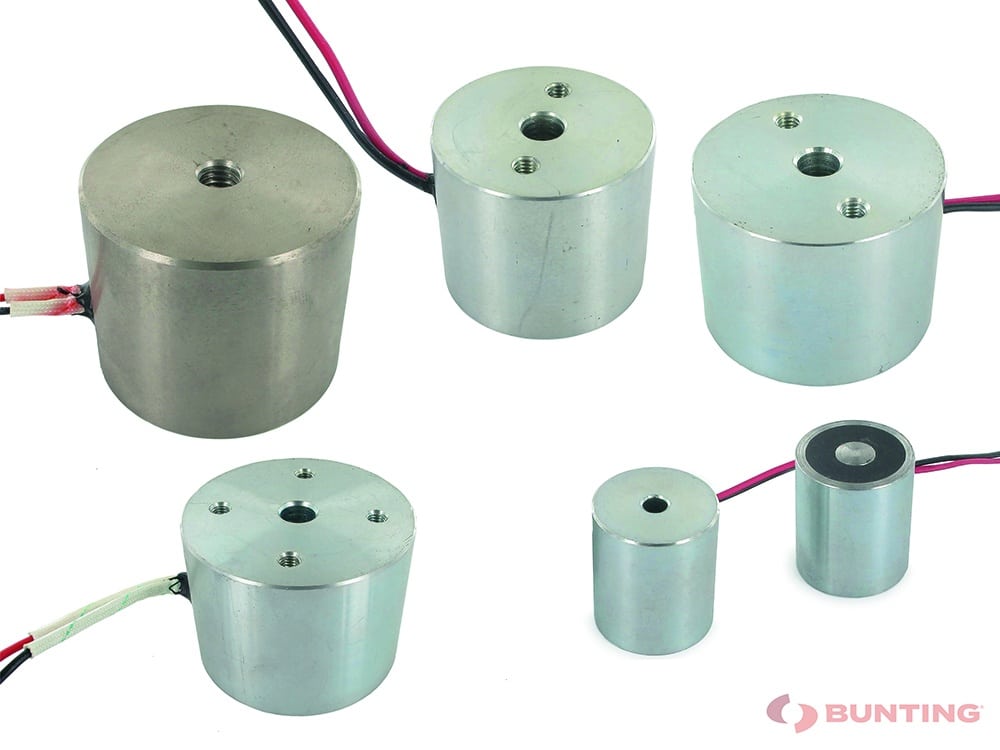 Energise to Release Electromagnets
Buy Energise to Release Electromagnets online with Bunting – eMagnets™
Bunting Magnetics' Range of Permanent Electro Holding Magnets
Our Permanent Electro Holding Magnets include a permanent magnet, encapsulated in a magnetic housing with an excitation coil wound between the magnet and the housing. Just like an electromagnet the magnetic circuit has to be switched on and off and the permanent magnet within this design means that the magnetic circuit is open in the switched off state and therefore generates a holding force without the need for constant application of current. This means that there is safe holding of workpieces, doors or other components in the event of a power failure or when there is the need for holding components for long periods of time.
When the coil is energised with a DC current the magnetic field from the magnet is negated and the part being held can be taken away with a minimal amount of effort, Some residual pull force will remain, unlike in an electromagnet and this needs to e taken into account when designing the complete system. These Permanent Electro Holding Magnets are incredibly energy efficient as they only need a brief pulse of energy to switch states.
If you do not see a shape or size or performance of Permanent Electro Holding Magnets that you require, please get in touch as we can design one to suit your needs.
Part #
Diameter
Depth
Mounting Type
Thread
Voltage
Pull (Kgs)
Package Quantity
Price
Quantity
XH1720
17 mm
20 mm
Threaded Mounting
M3
6 Volt
2 Kgs
1

£

29.21
XH3530
35 mm
30 mm
Threaded Mounting
M4
24 Volt
10 Kgs
1

£

36.87
XH4030
40 mm
30 mm
Threaded Mounting
M4
24 Volt
16 Kgs
1

£

39.67
XH4942
49 mm
42 mm
Threaded Mounting
M8
24 Volt
40 Kgs
1

£

76.34
XH6045
60 mm
45 mm
Threaded Mounting
M5
24 Volt
60 Kgs
1

£

109.11
XH8050
80 mm
50 mm
Threaded Mounting
M8
24 Volt
80 Kgs
1

£

139.64
XH10060
100 mm
60 mm
Threaded Mounting
M8
24 Volt
150 Kgs
1

£

243.93