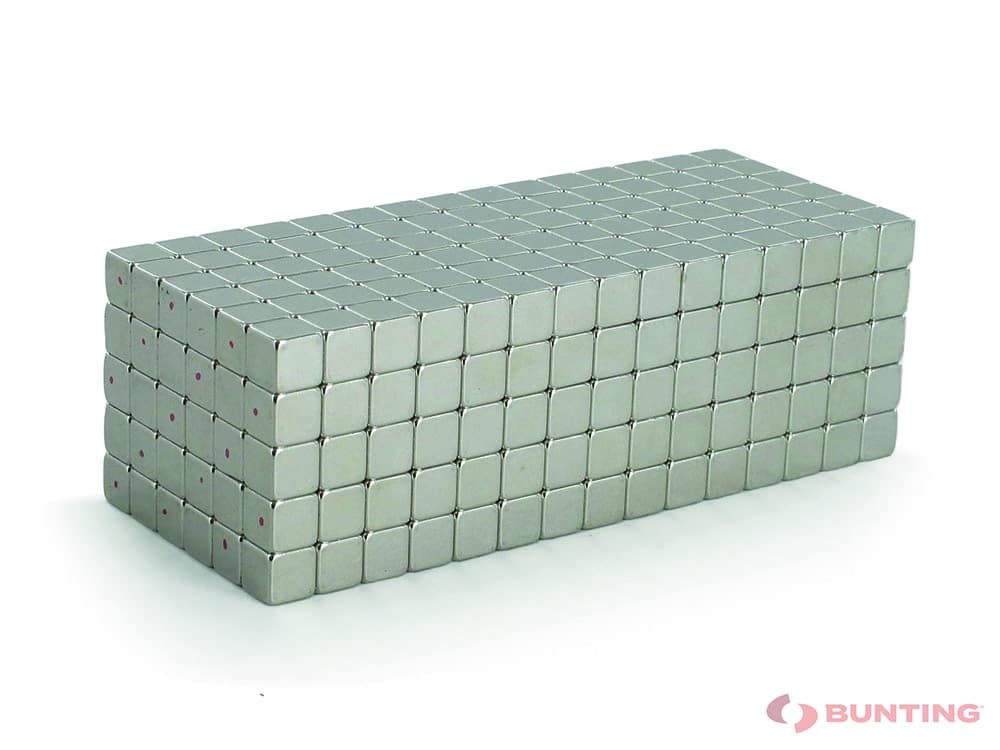 Neodymium Rectangular Magnets
Please Note that ALL Neodymium Rectangular Magnets and Block Magnets are magnetised through their Depth unless otherwise stated.
Buy Neodymium Rectangular Magnets online with Bunting – eMagnets™
A wide range of Neodymium magnets in a rectangular format is available on eMagnets. Generally, a larger and more powerful magnet is due to the size and depth of the magnet. Neodymium Rectangular Magnets exert very high forces and can attract each other through unbelievably large distances making them very popular for a range of applications that include wind generation, electric motors, packaging, scientific experiments, design and display.
Neodymium rectangular magnets also have an immense and unbeatable resistance to being demagnetised, making them ideal for repulsion applications as well as attractive applications.
The Neodymium Rectangular Magnets are triple coated (NiCuNi) for maximum protection against corrosion. Standard manufacturing tolerance is +/- 0.1mm on all dimensions.
Bunting – eMagnets can produce magnets of other sizes upon request (e.g. 5mm x 5mm x 30mmA, 150mm x 150mm x 25mmA, etc) and in different grades and with different coating finishes. If you cannot locate what you require, please contact us for a quotation.
£3.66 – £68.41
Neodymium rectangular magnets are powerful and larger magnets. They can attract each other though incredibly large distances and can be used for a range of industries such as packaging, electric motors, and wind generation.
Part #
Length
Width
Depth
Pull (Kgs)
Coating
Material
Grade
Package Quantity
Price
Quantity
EP181
50 mm
12 mm
25.4 mm
42.8kg
NiCuNi
Neodymium
N42
1

£

20.41

Quantity Discount Pricing
Prices per number of Packs
Min
Max
£ / Pack
£ / Magnet
1
9
£20.41
£20.4100
10
19
£18.00
£18.0000
20
39
£16.11
£16.1100
40
£14.57
£14.5700

EP200
10 mm
10 mm
5 mm
3.6kg
NiCuNi
Neodymium
N42
10

£

9.98

Quantity Discount Pricing
Prices per number of Packs
Min
Max
£ / Pack
£ / Magnet
1
9
£9.98
£0.9980
10
19
£8.99
£0.8990
20
39
£7.08
£0.7080
40
£6.28
£0.6280

EP200N55
10 mm
10 mm
5 mm
4.7kg
NiCuNi
Neodymium
N55
20

£

17.80

Quantity Discount Pricing
Prices per number of Packs
Min
Max
£ / Pack
£ / Magnet
1
9
£17.80
£0.8900
10
19
£16.02
£0.8010
20
39
£14.60
£0.7300
40
£13.40
£0.6700

EP279
22 mm
7 mm
2 mm
1.8kg
NiCuNi
Neodymium
N42
10

£

6.58

Quantity Discount Pricing
Prices per number of Packs
Min
Max
£ / Pack
£ / Magnet
1
9
£6.58
£0.6580
10
19
£5.81
£0.5810
20
39
£5.20
£0.5200
40
£4.70
£0.4700

EP279N52
22 mm
7 mm
2 mm
2.33kg
NiCuNi
Neodymium
N52
10

£

10.65

Quantity Discount Pricing
Prices per number of Packs
Min
Max
£ / Pack
£ / Magnet
1
9
£10.65
£1.0650
10
19
£9.69
£0.9690
20
39
£8.52
£0.8520
40
£7.10
£0.7100

EP280
22 mm
11 mm
2 mm
2.2kg
NiCuNi
Neodymium
N42
10

£

10.53

Quantity Discount Pricing
Prices per number of Packs
Min
Max
£ / Pack
£ / Magnet
1
9
£10.53
£1.0530
10
19
£9.42
£0.9420
20
39
£8.31
£0.8310
40
£7.20
£0.7200

EP280N52
22 mm
11 mm
2 mm
3.08kg
NiCuNi
Neodymium
N52
10

£

16.00

Quantity Discount Pricing
Prices per number of Packs
Min
Max
£ / Pack
£ / Magnet
1
9
£16.00
£1.6000
10
19
£14.54
£1.4540
20
39
£12.80
£1.2800
40
£10.67
£1.0670

EP283
25 mm
22 mm
0.4 mm
0.8kg
NiCuNi
Neodymium
N42
5

£

25.26

Quantity Discount Pricing
Prices per number of Packs
Min
Max
£ / Pack
£ / Magnet
1
9
£25.26
£5.0520
10
19
£23.58
£4.7160
20
39
£22.10
£4.4200
40
£20.21
£4.0420

EP293
20 mm
10 mm
5 mm
5.1kg
NiCuNi
Neodymium
N42
5

£

13.69

Quantity Discount Pricing
Prices per number of Packs
Min
Max
£ / Pack
£ / Magnet
1
9
£13.69
£2.7380
10
19
£12.84
£2.5680
20
39
£11.13
£2.2260
40
£8.51
£1.7020

EP293N52
20 mm
10 mm
5 mm
7.41kg
NiCuNi
Neodymium
N52
5

£

12.28

Quantity Discount Pricing
Prices per number of Packs
Min
Max
£ / Pack
£ / Magnet
1
9
£12.28
£2.4560
10
19
£11.16
£2.2320
20
39
£9.82
£1.9640
40
£8.18
£1.6360

EP299
25 mm
10 mm
5 mm
5.5kg
NiCuNi
Neodymium
N42
5

£

8.49

Quantity Discount Pricing
Prices per number of Packs
Min
Max
£ / Pack
£ / Magnet
1
9
£8.49
£1.6980
10
19
£7.53
£1.5060
20
39
£6.56
£1.3120
40
£5.59
£1.1180

EP299N52
25 mm
10 mm
5 mm
8.37kg
NiCuNi
Neodymium
N52
5

£

18.36

Quantity Discount Pricing
Prices per number of Packs
Min
Max
£ / Pack
£ / Magnet
1
9
£18.36
£3.6720
10
19
£16.69
£3.3380
20
39
£14.69
£2.9380
40
£12.24
£2.4480

EP316
3 mm
3 mm
3 mm
0.7kg
NiCuNi
Neodymium
N42
25

£

4.57

Quantity Discount Pricing
Prices per number of Packs
Min
Max
£ / Pack
£ / Magnet
1
9
£4.57
£0.1828
10
19
£3.66
£0.1464
20
39
£3.05
£0.1220
40
£2.61
£0.1044

EP316N52
3 mm
3 mm
3 mm
0.42kg
NiCuNi
Neodymium
N52
100

£

16.36

Quantity Discount Pricing
Prices per number of Packs
Min
Max
£ / Pack
£ / Magnet
1
9
£16.36
£0.1636
10
19
£14.87
£0.1487
20
39
£13.08
£0.1308
40
£10.90
£0.1090

EP317
5 mm
5 mm
2 mm
0.7kg
NiCuNi
Neodymium
N42
25

£

7.47

Quantity Discount Pricing
Prices per number of Packs
Min
Max
£ / Pack
£ / Magnet
1
9
£7.47
£0.2988
10
19
£6.64
£0.2656
20
39
£5.97
£0.2388
40
£5.43
£0.2172

EP318
5 mm
10 mm
2 mm
1kg
NiCuNi
Neodymium
N42
25

£

5.00

Quantity Discount Pricing
Prices per number of Packs
Min
Max
£ / Pack
£ / Magnet
1
9
£5
£0.2000
10
19
£3.80
£0.1520
20
39
£3.04
£0.1216
40
£2.53
£0.1012

EP319
25 mm
5 mm
5 mm
4.1kg
NiCuNi
Neodymium
N42
5

£

6.11

Quantity Discount Pricing
Prices per number of Packs
Min
Max
£ / Pack
£ / Magnet
1
9
£6.11
£1.2220
10
19
£5.49
£1.0980
20
39
£4.68
£0.9360
40
£4.22
£0.8440

EP321
100 mm
20 mm
4 mm
12.9kg
NiCuNi
Neodymium
N42
1

£

15.48

Quantity Discount Pricing
Prices per number of Packs
Min
Max
£ / Pack
£ / Magnet
1
9
£15.48
£15.4800
10
19
£13.93
£13.9300
20
39
£12.67
£12.6700
40
£11.15
£11.1500

EP328A
10 mm
10 mm
4 mm with csk hole
2.4kg
NiCuNi
Neodymium
N42
10

£

13.04

Quantity Discount Pricing
Prices per number of Packs
Min
Max
£ / Pack
£ / Magnet
1
9
£13.04
£1.3040
10
19
£12.17
£1.2170
20
49
£11.41
£1.1410
50
£10.14
£1.0140

EP328AN52
10 mm
10 mm
5 mm with c/sunk hole
2.98kg
NiCuNi
Neodymium
N52
10

£

13.79

Quantity Discount Pricing
Prices per number of Packs
Min
Max
£ / Pack
£ / Magnet
1
9
£13.79
£1.3790
10
19
£12.53
£1.2530
20
49
£11.03
£1.1030
50
£9.19
£0.9190

EP328B
10 mm
10 mm
4 mm with csk hole
2.4kg
NiCuNi
Neodymium
N42
10

£

13.04

Quantity Discount Pricing
Prices per number of Packs
Min
Max
£ / Pack
£ / Magnet
1
9
£13.04
£1.3040
10
19
£12.17
£1.2170
20
49
£11.41
£1.1410
50
£10.14
£1.0140

EP328BN52
10 mm
10 mm
5mm with c/sunk hole
2.98kg
NiCuNi
Neodymium
N52
10

£

13.79

Quantity Discount Pricing
Prices per number of Packs
Min
Max
£ / Pack
£ / Magnet
1
9
£13.79
£1.3790
10
19
£12.53
£1.2530
20
49
£11.03
£1.1030
50
£9.19
£0.9190

EP329
42 mm
8 mm
10 mm
13kg
NiCuNi
Neodymium
N42
2

£

14.45

Quantity Discount Pricing
Prices per number of Packs
Min
Max
£ / Pack
£ / Magnet
1
4
£14.45
£7.2250
5
9
£13.12
£6.5600
10
19
£12.09
£6.0450
20
£10.27
£5.1350

EP330
20 mm
6 mm
1.5 mm
1.2kg
NiCuNi
Neodymium
N45
10

£

5.48

Quantity Discount Pricing
Prices per number of Packs
Min
Max
£ / Pack
£ / Magnet
1
9
£5.48
£0.5480
10
19
£4.79
£0.4790
20
39
£3.99
£0.3990
40
£3.31
£0.3310

EP331
15 mm
5 mm
1 mm
0.6kg
NiCuNi
Neodymium
N42
10

£

3.93

Quantity Discount Pricing
Prices per number of Packs
Min
Max
£ / Pack
£ / Magnet
1
9
£3.93
£0.3930
10
19
£3.47
£0.3470
20
39
£3.11
£0.3110
40
£2.80
£0.2800

EP331N52
15 mm
5 mm
1 mm
0.67kg
NiCuNi
Neodymium
N52
20

£

9.35

Quantity Discount Pricing
Prices per number of Packs
Min
Max
£ / Pack
£ / Magnet
1
9
£9.35
£0.4675
10
19
£8.50
£0.4250
20
39
£7.48
£0.3740
40
£6.23
£0.3115

EP332
12.5 mm
5 mm
1 mm
0.6kg
NiCuNi
Neodymium
N42
10

£

3.66

Quantity Discount Pricing
Prices per number of Packs
Min
Max
£ / Pack
£ / Magnet
1
9
£3.66
£0.3660
10
19
£3.23
£0.3230
20
39
£2.89
£0.2890
40
£2.61
£0.2610

EP332N52
12.5 mm
5 mm
2.5 mm
1.56kg
NiCuNi
Neodymium
N52
20

£

13.08

Quantity Discount Pricing
Prices per number of Packs
Min
Max
£ / Pack
£ / Magnet
1
9
£13.08
£0.6540
10
19
£11.89
£0.5945
20
39
£10.47
£0.5235
40
£8.72
£0.4360

EP333
10 mm
3.5 mm
2.25 mm
1kg
NiCuNi
Neodymium
N42
25

£

9.97

Quantity Discount Pricing
Prices per number of Packs
Min
Max
£ / Pack
£ / Magnet
1
9
£9.97
£0.3988
10
19
£8.84
£0.3536
20
39
£7.99
£0.3196
40
£6.85
£0.2740

EP335
50 mm
50 mm
25 mm
88.5kg
NiCuNi
Neodymium
N42
1

£

68.41

Quantity Discount Pricing
Prices per number of Packs
Min
Max
£ / Pack
£ / Magnet
1
9
£68.41
£68.4100
10
19
£62.71
£62.7100
20
39
£56.99
£56.9900
40
£52.38
£52.3800

EP337
50 mm
25 mm
2 mm
4.9kg
NiCuNi
Neodymium
N42
2

£

10.53

Quantity Discount Pricing
Prices per number of Packs
Min
Max
£ / Pack
£ / Magnet
1
4
£10.53
£5.2650
5
9
£9.29
£4.6450
10
19
£8.31
£4.1550
20
£7.53
£3.7650

EP352
40 mm
20 mm
10 mm
19.9kg
NiCuNi
Neodymium
N42
1

£

9.07

Quantity Discount Pricing
Prices per number of Packs
Min
Max
£ / Pack
£ / Magnet
1
9
£9.07
£9.0700
10
19
£8.51
£8.5100
20
39
£7.93
£7.9300
40
£7.36
£7.3600

EP352N52
40 mm
20 mm
10 mm
28.37kg
NiCuNi
Neodymium
N52
1

£

17.90

Quantity Discount Pricing
Prices per number of Packs
Min
Max
£ / Pack
£ / Magnet
1
9
£17.90
£17.9000
10
19
£16.27
£16.2700
20
39
£14.32
£14.3200
40
£11.93
£11.9300

EP381
5 mm
5 mm
5 mm
1.6kg
NiCuNi
Neodymium
N42
25

£

7.13

Quantity Discount Pricing
Prices per number of Packs
Min
Max
£ / Pack
£ / Magnet
1
9
£7.13
£0.2852
10
19
£5.70
£0.2280
20
39
£5.13
£0.2052
40
£4.28
£0.1712

EP383
15 mm
15 mm
8 mm
8.5kg
Zinc
Neodymium
N42
4

£

28.96

Quantity Discount Pricing
Prices per number of Packs
Min
Max
£ / Pack
£ / Magnet
1
24
£28.96
£7.2400
25
49
£25.55
£6.3875
50
99
£22.86
£5.7150
100
£20.69
£5.1725

EP553
3 mm
3 mm
8 mm
0.6kg
NiCuNi
Neodymium
N42
25

£

9.97

Quantity Discount Pricing
Prices per number of Packs
Min
Max
£ / Pack
£ / Magnet
1
9
£9.97
£0.3988
10
19
£9.12
£0.3648
20
39
£7.99
£0.3196
40
£7.13
£0.2852

EP647
25 mm
10 mm
3 mm
3.4kg
NiCuNi
Neodymium
N42
5

£

7.41

Quantity Discount Pricing
Prices per number of Packs
Min
Max
£ / Pack
£ / Magnet
1
9
£7.41
£1.4820
10
19
£6.67
£1.3340
20
39
£5.42
£1.0840
40
£4.85
£0.9700

EP648
50 mm
25 mm
10 mm
24.8kg
NiCuNi
Neodymium
N42
1

£

15.92

Quantity Discount Pricing
Prices per number of Packs
Min
Max
£ / Pack
£ / Magnet
1
9
£15.92
£15.9200
10
49
£14.32
£14.3200
50
99
£13.06
£13.0600
100
£12.50
£12.5000

EP994N55
15 mm
15 mm
4 mm
6.7kg
NiCuNi
Neodymium
N55
10

£

13.90

Quantity Discount Pricing
Prices per number of Packs
Min
Max
£ / Pack
£ / Magnet
1
24
£13.90
£1.3900
25
49
£12.51
£1.2510
50
99
£11.40
£1.1400
100
£10.38
£1.0380

EP995N55
4 mm
4 mm
3 mm
0.7kg
NiCuNi
Neodymium
N55
100

£

15.40

Quantity Discount Pricing
Prices per number of Packs
Min
Max
£ / Pack
£ / Magnet
1
9
£15.40
£0.1540
10
19
£13.86
£0.1386
20
39
£12.63
£0.1263
40
£11.50
£0.1150