Bunting – eMagnets form part of the Global Bunting group of companies who have over 60 years of experience in Magnetic Separation. We stock a complete range of Magnetic Grids and Grates and Magnetic Rods which can be integrated into multiple separation applications. Our stock range extends to In-Line, Plate, Drawer and even Overband Magnets.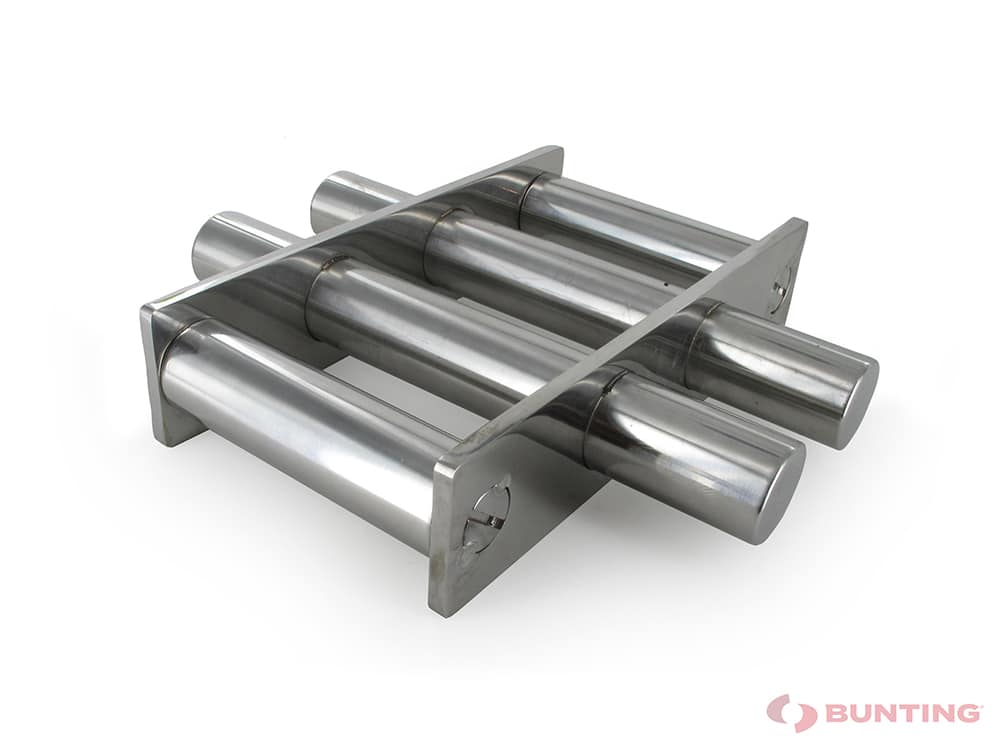 Buy Industrial Magnetic Separators online with Bunting – eMagnets™
Magnetic Separation is required in applications where ferrous (ferritic) contamination needs to be removed from a product (the contamination being ferromagnetic materials and materials with a magnetic permeability noticeably greater than 1, such a ferrimagnetic and some paramagnetic and antiferromagnetic materials). Bunting Magnetics manufactures a range of permanent magnetic separation equipment to remove such ferrous contaminants from dry particulates, liquids, and slurries. Bunting Magnetics supply everything from basic magnetic cartridges, magnetic separator rods, magnetic grates, magnetic grids, plate magnets, magnet housings, self-cleaning magnetic separators, magnetic pulleys, magnetic drums and conveyor sweeper overband magnets.
e-Magnets UK, now is part of Bunting Magnetics Europe, and is now able to offer the Bunting Magnetics Separation Equipment range. This range of magnetic separator equipment is widely used in the food, medical, dairy, pharmaceutical, petrochemical, grain, chemical, plastics, oil, textile, and recycling industries to remove ferrous material contamination or for recycling and the units supplied by Bunting Magnetics can be incorporated into existing gravity, mechanical, or pneumatic conveying systems.
Bunting Magnetics Separation Equipment is used to help decontaminate, amongst other materials, tea, sugar, grain, rice, grain, meat, flour, crisps, plastics, pellets, radiator systems, copper, etc. Where ferrous contamination avoidance is a necessity, Bunting Magnetics offers a solution to meet your needs.
Bunting Magnetics Separation Equipment work individually or in tandem with Bunting Magnetics Metal Detectors to remove ferrous metal debris from gravity, mechanical, or pneumatic conveying systems. If you have a need for Bunting Magnetics Metal Detectors please contact e-Magnets UK or Bunting Magnetics Europe for further information.
The Bunting Magnetics Separation Equipment supplied by e-Magnets UK will allow you to:-
• Protect product purity;
• Prevent equipment damage;
• Remove ferrous material;
• Reclaim ferrous material;
• Reduce fire hazards associated with tramp metal; and
• Reduce or even eliminate production losses.
Ferrous contamination could consist of any of mild steel, chromium, ferritic stainless, rust, tin cans, iron filings, ferrous tramp, etc. Examples of pieces that could be collected are nuts, bolts, paper clips, mild steel work tools such as spanners and screwdrivers, barbed wire, ferrous knives, sheared off sections of cutting blades, mild steel shards, paperclips, shredder teeth, staples, etc.
Where the metal contamination is non-magnetic (e.g. aluminium, copper, brass, etc) the Bunting Magnetics Metal Detector systems are required. These will detect metallic contaminants which are not collected by the Magnetic Separators. For maximum detection and minimum production down time, the Bunting Magnetics Metal Detectors should be used in conjunction with the Bunting Magnetics Permanent Magnetic Separator Equipment, with the Metal Detectors usually being placed further down the production line (the magnetic separators are usually further up the production line) at safety critical locations.
e-Magnets UK can assist you with supplying you with the Bunting Magnetics Metal Detector systems. Please contact e-Magnets UK (or Bunting Magnetics Europe) for advice on where to place any of our devices and for further information on the Bunting Magnetics Metal Detector systems.
There are many designs of Bunting Magnetics permanent magnet magnetic separator equipment. By having magnets inside them, the Bunting Magnetics Separation Equipment are always active and do not require any external power source.