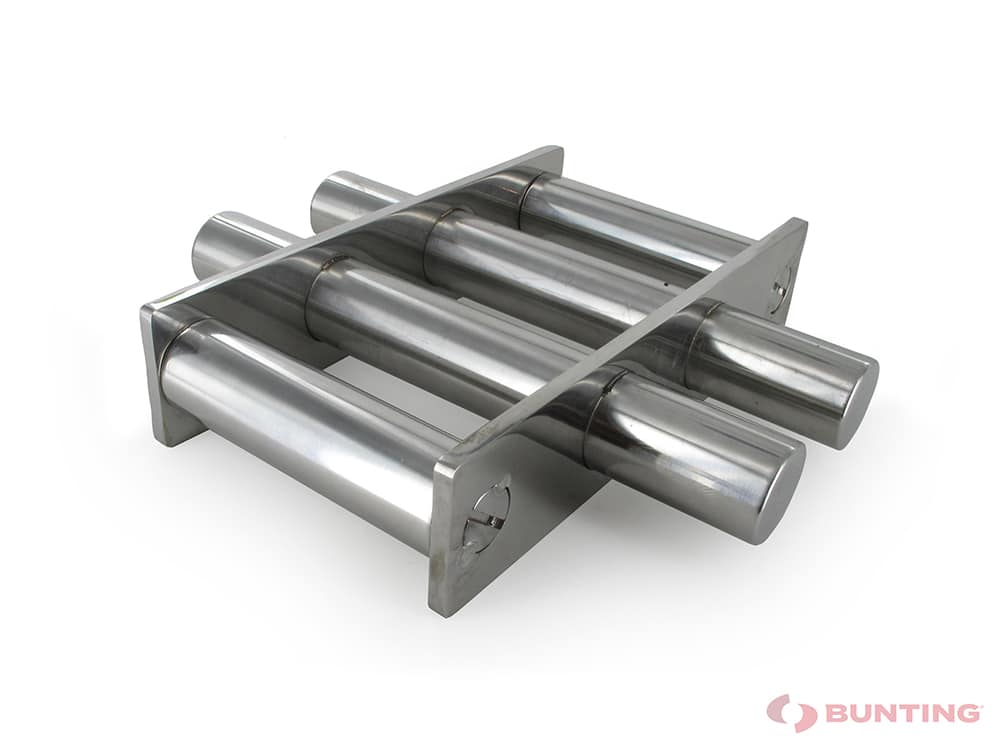 Magnetic Grids and Grates – Round
Buy Round Magnetic Grids and Grates online with Bunting – eMagnets™
The Circular Magnetic Separator Grid can be bought in 50mm increments in sizes between 100mm diameter and 500mm diameter. The Circular Magnetic Separator Grid is long-lasting, easy to clean and simple to maintain.
Our Food Grade range of Separator Magnet Rods are encased in a food-quality stainless steel casing that is sealed by cleaned and polished welds. Within the Rods are NdFeB Rare Earth magnets held in repulsion. The surface of the Magnet Rods measures 10,000 Gauss.
The Separator Magnet Rods are held in such a manner as to maximise the capture of ferrous particulates whilst minimising clogging up if there are a large number of contaminants to capture. Stacking the grids may aid in capturing more ferrous contaminants.
Ferrous contamination can be removed from free-flowing substances such as tea, coffee, sugar, animal feed, grains, powders, shredded plastics/paper/metals, etc.
We can also produce bespoke Circular Magnetic Separator Grids (larger than 500mm diameter is possible) with varying temperature ratings (+80 deg C up to +350 deg C) using different Gauss-rated rods (9000 Gauss, 10000Gauss and 12000Gauss). Please contact us for more details.
Part #
Diameter
Material
Type
Food Grade
Gauss
Package Quantity
Price
Quantity
GRM-100-NPB
100 mm
Neodymium
Power Balanced
No
4000-5000 Gauss
1

£

80.00
GRM-100-A-CR
100 mm
Ferrite
Angular Baffles
No
2500-2900 Gauss
1

£

35.41
GRM-100-NHI
100 mm
Neodymium
High Intensity
No
10000 Gauss
1

£

95.00
GRM-100-NHI-F
100 mm
Neodymium
High Intensity
Yes
10000 Gauss
1

£

165.98
GRM-150-NHI-F
150 mm
Neodymium
High Intensity
Yes
10000 Gauss
1

£

239.02
GRM-150-NHI
150 mm
Neodymium
High Intensity
No
10000 Gauss
1

£

185.00
GRM-150-A-CR
150 mm
Ferrite
Angular Baffles
No
2500-2900 Gauss
1

£

55.00
GRM-150-NPB
150 mm
Neodymium
Power Balanced
No
4000-5000 Gauss
1

£

80.00
GRM-200-NHI
200 mm
Neodymium
High Intensity
No
10000 Gauss
1

£

415.00
GRM-200-NHI-F
200 mm
Neodymium
High Intensity
Yes
10000 Gauss
1

£

396.15
GRM-200-NPB
200 mm
Neodymium
Power Balanced
No
4000-5000 Gauss
1

£

250.00
GRM-200-A-CR
200 mm
Ferrite
Angular Baffles
No
2500-2900 Gauss
1

£

105.00
GRM-250-NHI-F
250 mm
Neodymium
High Intensity
Yes
10000 Gauss
1

£

557.70
GRM-250-NHI
250 mm
Neodymium
High Intensity
No
10000 Gauss
1

£

645.00
GRM-250-NPB
250 mm
Neodymium
Power Balanced
No
4000-5000 Gauss
1

£

400.00
GRM-250-A-CR
250 mm
Ferrite
Angular Baffles
No
2500-2900 Gauss
1

£

150.00
GRM-300-NPB
300 mm
Neodymium
Power Balanced
No
4000-5000 Gauss
1

£

630.00
GRM-300-NHI-F
300 mm
Neodymium
High Intensity
Yes
10000 Gauss
1

£

860.90
GRM-300-NHI
300 mm
Neodymium
High Intensity
No
10000 Gauss
1

£

940.00
GRM-300-A-CR
300 mm
Ferrite
Angular Baffles
No
2500-2900 Gauss
1

£

210.00
GRM-350-NHI
350 mm
Neodymium
High Intensity
No
10000 Gauss
1

£

840.98
GRM-350-NPB
350 mm
Neodymium
Power Balanced
No
4000-5000 Gauss
1

£

559.92
GRM-350-A-CR
350 mm
Ferrite
Angular Baffles
No
2500-2900 Gauss
1

£

227.95
GRM-350-NHI-F
350 mm
Neodymium
High Intensity
Yes
10000 Gauss
1

£

1,097.70
GRM-400-NHI
400 mm
Neodymium
High Intensity
No
10000 Gauss
1

£

1,760.00
GRM-450-NHI
450 mm
Neodymium
High Intensity
No
10000 Gauss
1

£

1,414.18