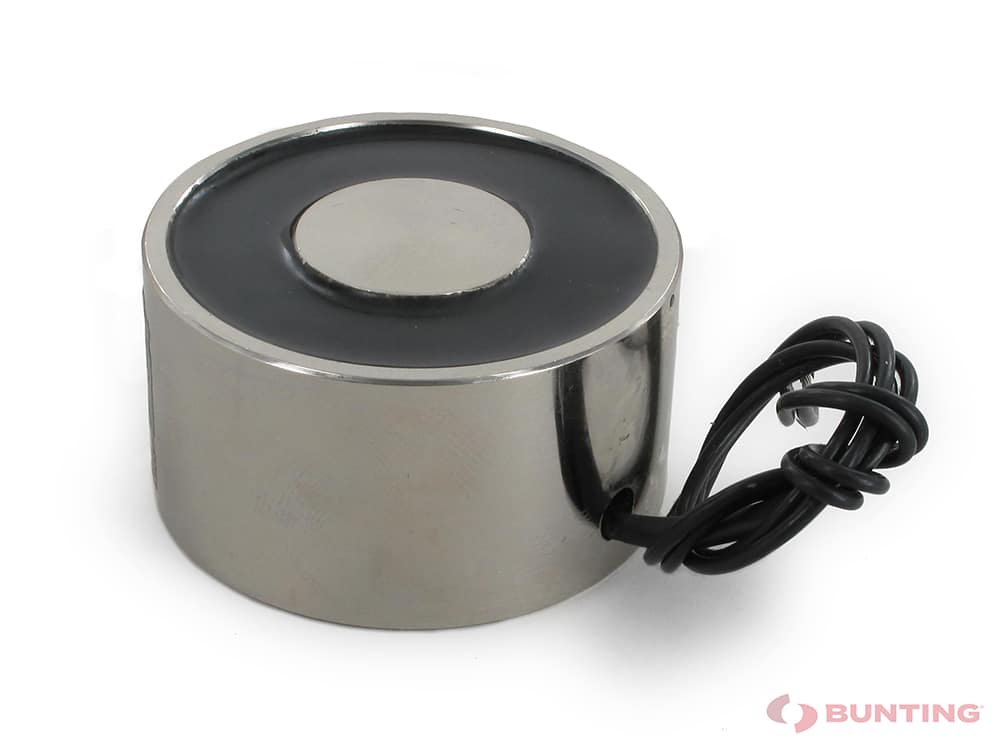 Round Electromagnets 24 Volt
Buy Round Electromagnets 24 Volt online with Bunting – eMagnets™
A small range of 24 Volt Hold / Release Electromagnets suitable for many varied applications.
This simple but extremely effective magnet requires an electrical current to switch the magnet on and therefore will often be referred to as an 'Energise to Hold' magnet. Switching the magnet off or 'releasing' the magnet is achieved by simply removing the electrical current.
Our standard stock products offers a range of 2.5Kg to 50Kg Pull Force which covers many typical applications. Other sizes are available by request with effective pull forces of upto 120Kg.
The magnets are finished with a robust and practical Zinc Coating and each magnet features a threaded hole in the rear face designed for fixing / mounting purposes.
Please Note : Only to be used when in full face to face contact with a section of magnetic material as a gap of only 0.1mm will result in a drop off in performance of around 90%. This includes paints and non-magnetic coatings.
Part #
Diameter
Depth
Mounting Type
Internal Diameter
Voltage
Ampage
Pull (Kgs)
Package Quantity
Price
Quantity
XRN-P20/15
20 mm
15 mm
M3 Threaded Mounting
8
24 Volt
0.05 Amp
2.5 Kgs`
1

£

6.93
XRN-P40/20
40 mm
20 mm
M5 Threaded Mounting
18
24 Volt
0.15 Amp
25.0 Kgs
1

£

16.33
XRN-P50/27
50 mm
27 mm
M5 Threaded Mounting
20
24 Volt
0.16 Amp
50.0 Kgs
1

£

23.86