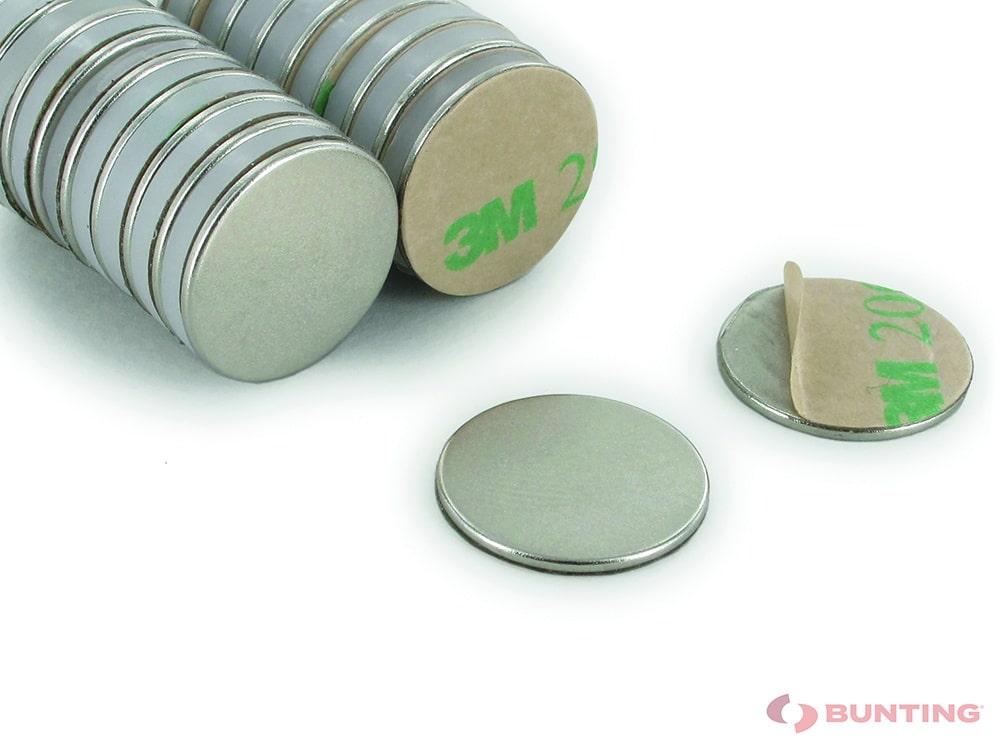 Neodymium Adhesive Backed Discs
Buy Adhesive Backed Discs online with Bunting – eMagnets™
Self Adhesive Backed Neodymium Disc Magnets!
The polarity in the part description identifies the adhesive covered pole face.
We have very carefully selected a core range of sizes from our standard Neodymium Disc range which we know are commonly required to be stuck to various different surfaces.
We now provide this special range of sizes with a strong 3M adhesive on one face of the magnet. This allows the user to very quickly peel away the protective film and stick the magnet to a wide range of surfaces.
We also offer the option of supplying each magnet in pairs (please note our A & B part numbers). This simply has the adhesive on the North face on one magnet and the South face on the other. This will allow the user to stick the magnets to two different surfaces and the magnets will then attract each other.
There are too many uses to list but we know that this is a very important product for anyone in the print & design or art & craft industries.
Other sizes and coatings may be possible upon request e.g. black epoxy coated versions. Larger and more powerful magnets may have practical issues as the magnetism can become more powerful than the adhesive which is why these magnets tend to be smaller.
Neodymium Adhesive Backed Discs
£7.03 – £10.84
Part #
Diameter
Depth
Pull (Kgs)
Coating
Pole Face
Material
Grade
Package Quantity
Price
Quantity
EP306A-ADH
6 mm
1 mm
0.30kg
NiCuNi
North
Neodymium
N42
25

£

7.28

Quantity Discount Pricing
Prices per number of Packs
Min
Max
£ / Pack
£ / Magnet
1
3
£7.28
£0.2912
4
£5.65
£0.2260

EP306B-ADH
6 mm
1 mm
0.30kg
NiCuNi
South
Neodymium
N42
25

£

7.28

Quantity Discount Pricing
Prices per number of Packs
Min
Max
£ / Pack
£ / Magnet
1
3
£7.28
£0.2912
4
£5.65
£0.2260

EP307A-ADH
10 mm
1 mm
0.50kg
NiCuNi
North
Neodymium
N42
20

£

7.83

Quantity Discount Pricing
Prices per number of Packs
Min
Max
£ / Pack
£ / Magnet
1
4
£7.83
£0.3915
5
£6.48
£0.3240

EP307B-ADH
10 mm
1 mm
0.50kg
NiCuNi
South
Neodymium
N42
20

£

7.83

Quantity Discount Pricing
Prices per number of Packs
Min
Max
£ / Pack
£ / Magnet
1
4
£7.83
£0.3915
5
£6.48
£0.3240

EP308A-ADH
12 mm
1 mm
0.65kg
NiCuNi
North
Neodymium
N42
20

£

9.04

Quantity Discount Pricing
Prices per number of Packs
Min
Max
£ / Pack
£ / Magnet
1
4
£9.04
£0.4520
5
£7.95
£0.3975

EP308B-ADH
12 mm
1 mm
0.65kg
NiCuNi
South
Neodymium
N42
20

£

9.04

Quantity Discount Pricing
Prices per number of Packs
Min
Max
£ / Pack
£ / Magnet
1
4
£9.04
£0.4520
5
£7.95
£0.3975

EP309A-ADH
15 mm
1 mm
0.80kg
NiCuNi
North
Neodymium
N42
20

£

10.84

Quantity Discount Pricing
Prices per number of Packs
Min
Max
£ / Pack
£ / Magnet
1
4
£10.84
£0.5420
5
£9.40
£0.4700

EP309B-ADH
15 mm
1 mm
0.80kg
NiCuNi
South
Neodymium
N42
20

£

10.84

Quantity Discount Pricing
Prices per number of Packs
Min
Max
£ / Pack
£ / Magnet
1
4
£10.84
£0.5420
5
£9.40
£0.4700

EP322A-ADH
8 mm
1 mm
0.40kg
NiCuNi
North
Neodymium
N42
25

£

7.03

Quantity Discount Pricing
Prices per number of Packs
Min
Max
£ / Pack
£ / Magnet
1
3
£7.03
£0.2812
4
£5.06
£0.2024

EP322B-ADH
8 mm
1 mm
0.40kg
NiCuNi
South
Neodymium
N42
25

£

7.03

Quantity Discount Pricing
Prices per number of Packs
Min
Max
£ / Pack
£ / Magnet
1
3
£7.03
£0.2812
4
£5.06
£0.2024

EP323A-ADH
8 mm
2 mm
0.80kg
NiCuNi
North
Neodymium
N42
25

£

8.56

Quantity Discount Pricing
Prices per number of Packs
Min
Max
£ / Pack
£ / Magnet
1
3
£8.56
£0.3424
4
£6.51
£0.2604

EP323B-ADH
8 mm
2 mm
0.80kg
NiCuNi
South
Neodymium
N42
25

£

8.56

Quantity Discount Pricing
Prices per number of Packs
Min
Max
£ / Pack
£ / Magnet
1
3
£8.56
£0.3424
4
£6.51
£0.2604

EP403A-ADH
10 mm
2 mm
1.00kg
NiCuNi
North
Neodymium
N42
20

£

9.04

Quantity Discount Pricing
Prices per number of Packs
Min
Max
£ / Pack
£ / Magnet
1
4
£9.04
£0.4520
5
£7.59
£0.3795

EP403B-ADH
10 mm
2 mm
1.00kg
NiCuNi
South
Neodymium
N42
20

£

9.04

Quantity Discount Pricing
Prices per number of Packs
Min
Max
£ / Pack
£ / Magnet
1
4
£9.04
£0.4520
5
£7.59
£0.3795