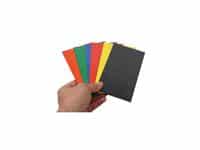 Magnetic Planning Circles
Buy Magnetic Planning Circles online with Bunting – eMagnets™
Brightly coloured die cut magnetic rubber circles are ideal for magnetic planning boards. Simply press them out and stick them to your planning board.
They are not suitable for holding paper against magnetic noticeboards (use notice board magnets instead).
They are available in 7 colours, a pack of 7 colours or bulk packs of 20 sheets.
Part #
Diameter
Depth
Colour
Package Quantity
Price
Quantity
E672-MULTI
10 mm
0.8 mm
Multi
350

£

14.05
E672-R/O/G
10 mm
0.8 mm
Multi
150

£

7.94
E672BK
10 mm
0.8 mm
Black
50

£

3.52

Quantity Discount Pricing
Prices per number of Packs
Min
Max
£ / Pack
£ / Magnet
1
19
£3.52
£0.0704
20
£2.11
£0.0422

E672BU
10 mm
0.8 mm
Blue
50

£

3.52

Quantity Discount Pricing
Prices per number of Packs
Min
Max
£ / Pack
£ / Magnet
1
19
£3.52
£0.0704
20
£2.11
£0.0422

E672G
10 mm
0.8 mm
Green
50

£

3.52

Quantity Discount Pricing
Prices per number of Packs
Min
Max
£ / Pack
£ / Magnet
1
19
£3.52
£0.0704
20
£2.11
£0.0422

E672O
10 mm
0.8 mm
Orange
50

£

3.52

Quantity Discount Pricing
Prices per number of Packs
Min
Max
£ / Pack
£ / Magnet
1
19
£3.52
£0.0704
20
£2.11
£0.0422

E672R
10 mm
0.8 mm
Red
50

£

3.52

Quantity Discount Pricing
Prices per number of Packs
Min
Max
£ / Pack
£ / Magnet
1
19
£3.52
£0.0704
20
£2.11
£0.0422

E672W
10 mm
0.8 mm
White
50

£

3.52

Quantity Discount Pricing
Prices per number of Packs
Min
Max
£ / Pack
£ / Magnet
1
19
£3.52
£0.0704
20
£2.11
£0.0422

E672Y
10 mm
0.8 mm
Yellow
50

£

3.52

Quantity Discount Pricing
Prices per number of Packs
Min
Max
£ / Pack
£ / Magnet
1
19
£3.52
£0.0704
20
£2.11
£0.0422

E676-R/O/G
15 mm
0.8 mm
Multi
150

£

9.04
E676BK
15 mm
0.8 mm
Black
50

£

4.02

Quantity Discount Pricing
Prices per number of Packs
Min
Max
£ / Pack
£ / Magnet
1
19
£4.02
£0.0804
20
£2.41
£0.0482

E676BU
15 mm
0.8 mm
Blue
50

£

4.02

Quantity Discount Pricing
Prices per number of Packs
Min
Max
£ / Pack
£ / Magnet
1
19
£4.02
£0.0804
20
£2.41
£0.0482

E676G
15 mm
0.8 mm
Green
50

£

4.02

Quantity Discount Pricing
Prices per number of Packs
Min
Max
£ / Pack
£ / Magnet
1
19
£4.02
£0.0804
20
£2.41
£0.0482

E676O
15 mm
0.8 mm
Orange
50

£

4.02

Quantity Discount Pricing
Prices per number of Packs
Min
Max
£ / Pack
£ / Magnet
1
19
£4.02
£0.0804
20
£2.41
£0.0482

E676R
15 mm
0.8 mm
Red
50

£

4.02

Quantity Discount Pricing
Prices per number of Packs
Min
Max
£ / Pack
£ / Magnet
1
19
£4.02
£0.0804
20
£2.41
£0.0482

E676W
15 mm
0.8 mm
White
50

£

4.02

Quantity Discount Pricing
Prices per number of Packs
Min
Max
£ / Pack
£ / Magnet
1
19
£4.02
£0.0804
20
£2.41
£0.0482

E676Y
15 mm
0.8 mm
Yellow
50

£

4.02

Quantity Discount Pricing
Prices per number of Packs
Min
Max
£ / Pack
£ / Magnet
1
19
£4.02
£0.0804
20
£2.41
£0.0482