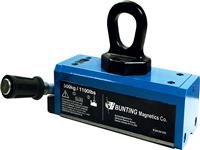 Buy Magnetic Lifter online with Bunting – eMagnets™
Introducing a brand new range of Bunting Magnetics 'MagLift' Permanent Magnetic Lifters.
Available in 3 sizes with safe working loads of 125kgs, 250kgs and 500kgs the Bunting Magnetics 'MagLift' has a lifter to suit a vast array of applications. The 'MagLift' is capable of lifting both flat and round sections.
Perfectly suited to varied environments including factories, warehouses, steel stock rooms, workshops, machining centres etc… An eyebolt on the top of the lifter allows easy attachment to hoists and cranes!
The 'MagLift' is a Permanent Magnetic Lifter and therefore does not require any power. A very simple hand controlled mechanism allows switching between on and off by moving one of several blocks of high-energy magnetic material within the lifter. To switch the lifter 'On' the one reversible magnetic blocks is brought parallel with the fixed blocks which creates a concentrated magnetic field at the pole feet for lifting. Operating in the 'Off' position the one reversible block is rotated to create a 'total magnetic short circuit' within the lifter which breaks the field and allows the operator of remove, position the lifter with ease.
All Bunting Magnetics 'MagLift' Lifters are pre-tested to ensure safe operation with a 3:1 safety factor for lifting capacities.
A 'MagLift' allows simple, secure, efficient and safe lifting of loads by just one operative!
Part #
Length
Width
Depth
Pull (Kgs)
Package Quantity
Price
Quantity
ML-275
110 mm
76 mm
60 mm
Flat - 125kgs Round - 50kgs
1

£

185.01
ML-550
165 mm
89 mm
71 mm
Flat - 250kgs Round - 100kgs
1

£

242.58
ML-1100
226 mm
106 mm
89 mm
Flat - 500kgs Round - 200kgs
1

£

454.62