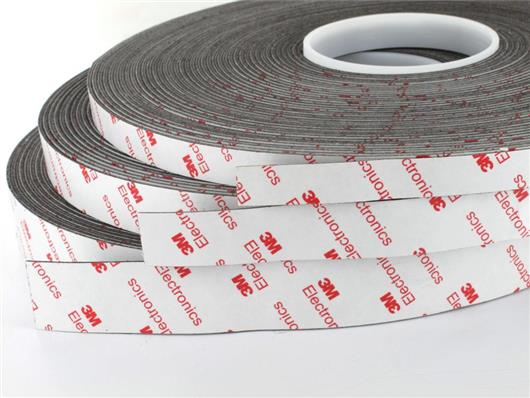 Neodymium Magnetic Rubber Tape
Buy Neodymium Magnetic Rubber Tape online with Bunting – eMagnets™
The Flexible Neodymium Magnet is currently the strongest flexible magnet in the world. These flexible magnetic tapes come with a high-strength 3M self-adhesive backing. The tapes are designed to be adhered to one surface with the self-adhesive backing leaving the magnetic face exposed to attract magnetic, metal-based materials. As the tapes have a striped North- South magnetic field (every 3 millimeters) it means that double the pull strength can be achieved by using tape-to-tape attraction. All our Neodymium magnetic tapes have a pull force of 400g per cm² when attracting a steel surface and can operate at temperatures up to 100°C.
A tip for putting tape on tape successfully (to avoid repulsion problems): – Peel away the first tape adhesive protector and place and press in required location to adhere. Put the second tape on top so it is aligned magnetically. Peel away the adhesive protector of the second tape and press the item you want to be held by the tapes onto the second tape to adhere. This guarantees perfect magnetic alignment every time when removing and replacing the items being held magnetically. If not done this way, there is a chance that the poles on each tape may be aligned in a repulsive state.
Flexible magnetic tape and flexible magnetic sheet are easily cut to size with normal scissors, craft knife, Stanley knife or a guillotine. They are also flexible, allowing them to follow gentle contours and curves.
The EP663N, EP664N and EP665N are ideal for use where a stronger adhesive is required and can be adhered by applying a layer of adhesive and bonded to the desired surface, leaving the magnetic face exposed to attract magnetic, metal-based materials, alternatively these can be used without adhesive to hold two ferromagnetic materials.
Part #
Width
Depth
Adhesive Backed
Special Feature
Attractive Force
Sold by
Package Quantity
Price
Quantity
E665N
25.4 mm
0.85 mm
No
Extra Stong
400g per cm sq
Metre
1

£

8.74

Quantity Discount Pricing
Prices per number of Packs
Min
Max
£ / Pack
£ / Magnet
1
4
£8.74
£8.7400
5
9
£7.28
£7.2800
10
19
£6.07
£6.0700
20
£5.06
£5.0600

EP663
12.7 mm
0.85 mm
Yes
Extra Stong
400g per cm sq
Metre
1

£

7.80

Quantity Discount Pricing
Prices per number of Packs
Min
Max
£ / Pack
£ / Magnet
1
4
£7.8
£7.8000
5
9
£6.16
£6.1600
10
19
£4.87
£4.8700
20
£4.28
£4.2800

EP664
19 mm
0.85 mm
Yes
Extra Stong
400g per cm sq
Metre
1

£

11.72

Quantity Discount Pricing
Prices per number of Packs
Min
Max
£ / Pack
£ / Magnet
1
4
£11.72
£11.7200
5
9
£9.26
£9.2600
10
19
£7.31
£7.3100
20
£6.58
£6.5800

EP665
25.4 mm
0.85 mm
Yes
Extra Stong
400g per cm sq
Metre
1

£

16.77

Quantity Discount Pricing
Prices per number of Packs
Min
Max
£ / Pack
£ / Magnet
1
4
£16.77
£16.7700
5
9
£13.25
£13.2500
10
19
£10.46
£10.4600
20
£9.42
£9.4200