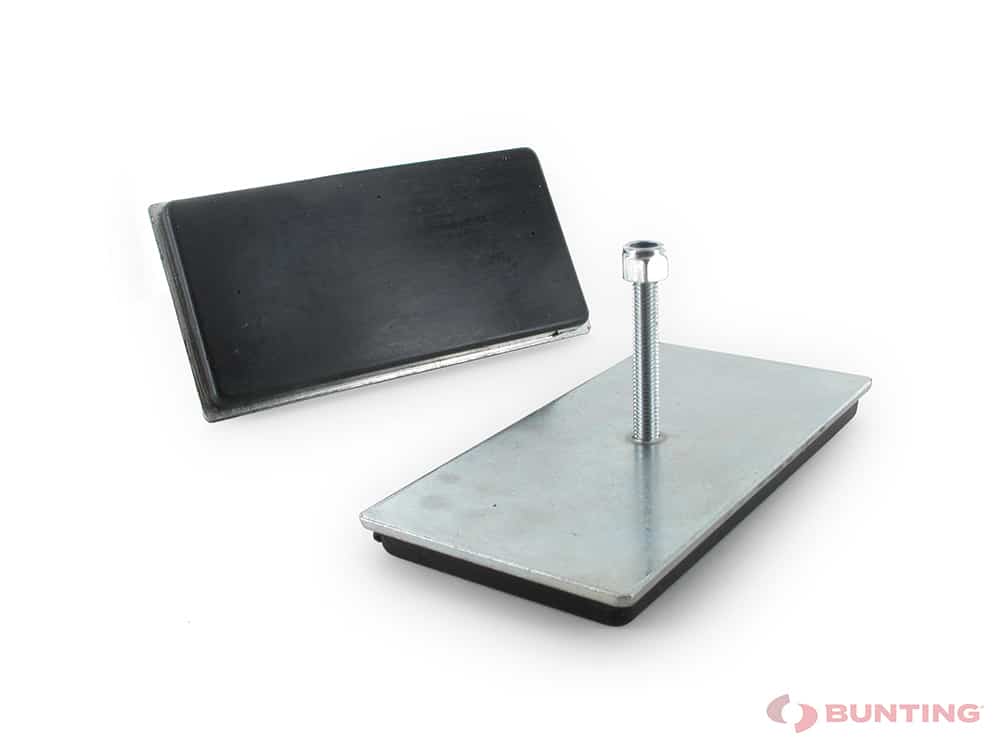 Buy Car Roof Top Magnets online with Bunting – eMagnets™
The car roof top magnet is designed for applications where high shear strength is required with minimum scratching. The car roof magnet is a magnetic clamping assembly with a soft polyurethane coating. The soft polyurethane coating causes almost zero abrasion but gives a much higher surface friction. Most magnets have a strong direct pull force but they can be made to slide along a surface with about 20% of the direct pull force when used on steel. The car roof top magnet has a strong direct pull force but the increased friction of the polyurethane means that it takes around twice the direct pull force to get the magnet to slide. This means that the car roof top magnet resists sliding along a ferromagnetic steel surface better than magnets without the polyurethane coating. It can provide immense resistance to shear forces when mounted on a smooth metal surface, as typically found on motor vehicle body parts.
This unique combination removes the risk of scratching paintwork – the polyurethane coating on the base of the magnet is relatively soft and therefore less likely to cause abrasion.
The polyurethane coating of the car roof top magnet also reduces the peel strength of the magnet, making it easier to remove from the metal surface when used for either interior or exterior applications.
For note, the car roof top magnet has zinc coated backing plates for corrosion resistance and come in various designs with screw holes or stud mountings.
Typical uses include car roof signs, antenna clamp systems, vehicle tracking units, temporary signage, attaching to boards and pictures for clamping to metal partitions, etc. It is sometimes called a Taxi Magnet as it is used within the taxi signs attached to the car roof to hold them securely in place. Please be aware note that magnets will not attract to panels are made of non-magnetic materials such as aluminium or carbon fibre; the majority of car panels have ferromagnetic mild steel content which magnets will attract strongly onto.
Another use is with use with doors. The unit can clamp onto mild steel strips on doors and provides a good clamping force with very little slip and low noise when clamping.
The Car Roof Magnet is also ideal for lighting fixing assemblies. It clamps securely to mild steel walls and girders with no damage to paintwork and no slippage on vertical surfaces, making it a superb choice for temporary and permanent lighting fixings.
Part #
Length
Width
Depth
Mounting Type
Hole Diameter
Stud Thread
Stud Length
Pull (Kgs)
Coating
Package Quantity
Price
Quantity
E622
53 mm
79 mm
12 mm
Stud Mounting
0 mm
M6
16 mm
9kg / 90N Shear Force
Rubber
1

£

4.40
E623
39 mm
75 mm
12 mm
Through Mounting
4 mm
NA
0 mm
3kg / 30N Shear Force
Rubber
1

£

5.40
E624
39 mm
100 mm
12 mm
Through Mounting
4 mm
NA
0 mm
6.5kg / 65N Shear Force
Rubber
1

£

7.85
E625
102 mm
127 mm
12 mm
Stud Mounting
0 mm
M6
16 mm
22kg / 220N Shear Force
Rubber
1

£

24.90
E626
53 mm
104 mm
8 mm
Stud Mounting
0 mm
M5
36 mm
7kg / 70N Shear Force
Rubber
1

£

22.86