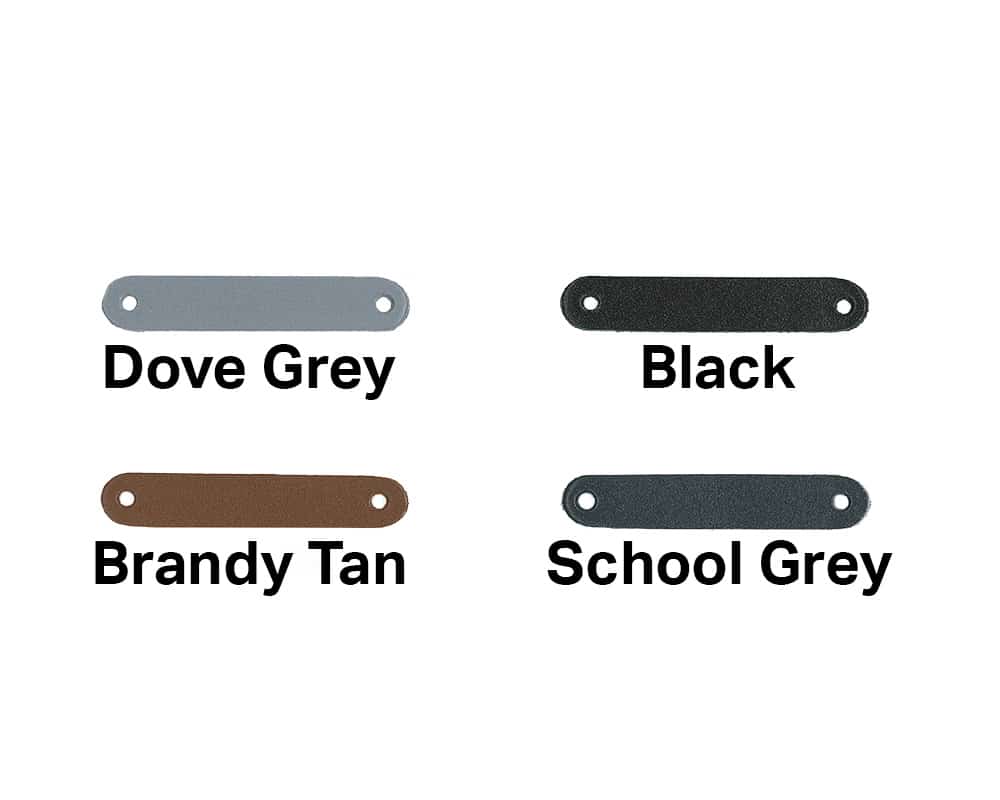 Leather Buffer for Elite or Shaker Catchplates
Adhesive backed leather buffers for application to Elite or Shaker Catchplates.
**The products shown in this section are an add on product – magnetic catch and catchplate not included in this price. The leather buffers are supplied with an adhesive backing, simply peel off the paper layer and place on the catchplate.
The leather buffer patches are designed to soften the noise from the closing of the catch.
The leather buffers are available in the colours shown as standard, custom options are available including:
• Own Branded embossed leather buffer
• Own Branded embossed and foiled leather buffer – available in many colours
• Custom colours and materials available – subject to minimum order quantities
The branded-embossed leather buffer allows for a company's logo or name to appear on the leather buffer. There is a one-off tooling charge of £150 for the embossing.
Please contact the Bunting team on 01442 875081 or sales.berkhamsted@buntingmagnetics.com if you would like to discuss applying your branding to the leather buffer.
Part #
Dimensions
Material
Colour
Package Quantity
Price
Quantity
LE001C-0010
61 x 10 x 1mm
Leather
Dove Grey
10

£

6.50

Quantity Discount Pricing
Prices per number of Packs
Min
Max
£ / Pack
£ / Magnet
1
24
£6.5
£0.6500
25
49
£6.20
£0.6200
50
£5.30
£0.5300

LE001D-0010
61 x 10 x 1mm
Leather
School Grey
10

£

6.50

Quantity Discount Pricing
Prices per number of Packs
Min
Max
£ / Pack
£ / Magnet
1
24
£6.5
£0.6500
25
49
£6.20
£0.6200
50
£5.30
£0.5300

LE001F-0010
61 x 10 x 1mm
Leather
Black
10

£

6.50

Quantity Discount Pricing
Prices per number of Packs
Min
Max
£ / Pack
£ / Magnet
1
24
£6.5
£0.6500
25
49
£6.20
£0.6200
50
£5.30
£0.5300

LE001G-0010
61 x 10 x 1mm
Leather
Brandy Tan
10

£

6.50

Quantity Discount Pricing
Prices per number of Packs
Min
Max
£ / Pack
£ / Magnet
1
24
£6.5
£0.6500
25
49
£6.20
£0.6200
50
£5.30
£0.5300