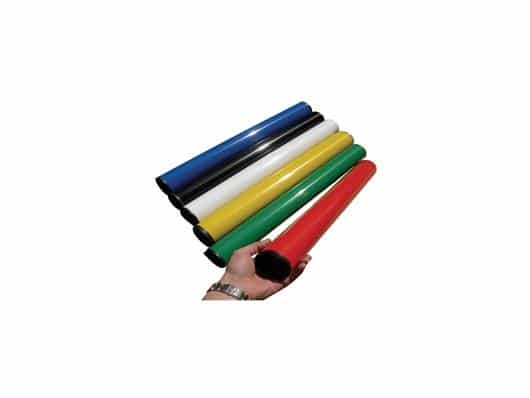 Coloured Vinyl Faced Magnetic Rubber Sheets
Buy Coloured Magnetic Vinyl Sheets online with Bunting – eMagnets™
Flexible coloured vinyl sheet is 0.85mm thick vehicle grade magnetic rubber which has a bright gloss coloured vinyl top layer plus a dry wipe top layer.
The clear top layer lamination ensures that you can write on the sheets with dry wipe pens – they wipe off easily afterwards.
The Natural version is plain (no vinyl, no dry wipe finish) – you can add your own artwork onto this.
The adhesive backed version has no vinyl but allows you to add your own artwork using the adhesive layer.
We can also print and cut out your own artwork onto the magnetic vinyl and add extra features such as dry wipe, magnetically receptive printed top layers, etc and we can cut to shape as well if required. please contact us for a quotation for this service.
Ideal for charts, planning boards, magnetic signs, games and puzzles.
The sheets are available in White, Black, Red, Green and Yellow and are easily cut to size using scissors, trimming knives or roller cutters.
Part #
Length
Width
Depth
Colour
Adhesive Backed
Attractive Force
Package Quantity
Price
Quantity
ER30
1000 mm
620 mm
0.75 mm
Brown
No
44g/cm2 Attractive Force
1

£

12.05
ER30A
1000 mm
620 mm
0.8 mm
NA
Yes
44g/cm2 Attractive Force
1

£

15.06
ER30BK
1000 mm
610 mm
0.8 mm
Black
No
44g/cm2 Attractive Force
1

£

15.06
ER30BU
1000 mm
610 mm
0.8 mm
Blue
No
44g/cm2 Attractive Force
1

£

15.06
ER30G
1000 mm
610 mm
0.8 mm
Green
No
44g/cm2 Attractive Force
1

£

15.06
ER30R
1000 mm
610 mm
0.8 mm
Red
No
44g/cm2 Attractive Force
1

£

15.06
ER30W
1000 mm
610 mm
0.8 mm
White
No
44g/cm2 Attractive Force
1

£

15.06
ER30Y
1000 mm
610 mm
0.8 mm
Yellow
No
44g/cm2 Attractive Force
1

£

15.06