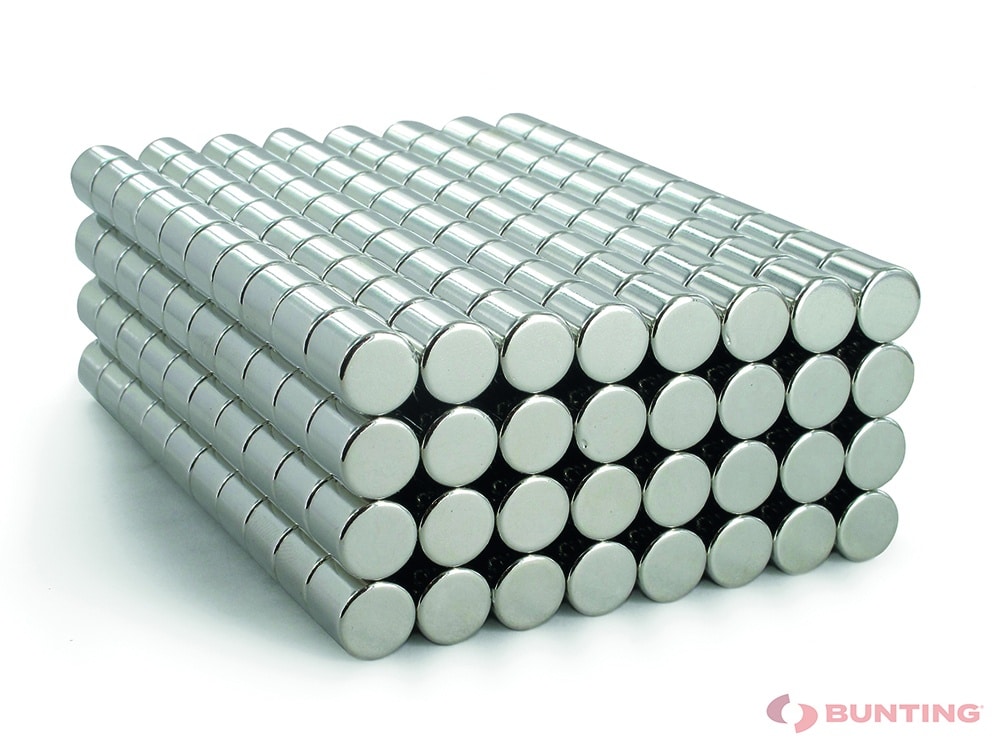 A range of high performance neodymium magnets that have a magnetic length which is longer than their diameters are wide. Neodymium rods will give a deeper magnetic field than a circular disc with the same diameter due to the longer lengths. They are used where a small size and maximum power are needed. Neodymium Magnets exert very high forces and can attract each other through unbelievably large distances making them very popular for a wide range of applications including scientific experiments, packaging, display, furniture and even musical instruments. They also have an immense and unbeatable resistance to being demagnetised, making them ideal for repulsion applications as well as attractive applications.
The magnets are triple coated (NiCuNi) for maximum protection against corrosion.Standard manufacturing tolerance is +/- 0.1mm on all dimensions. We can produce in different grades, sizes and coatings upon request (e.g. silver coating, D50mm x 50mmA in N50, etc) – please contact us if you require custom NdFeB magnets.
All magnets are Axially unless otherwise stated.
Any Part Number ending in 'D' = Diametrically Magnetised.
Part #
Diameter
Depth
Pull (Kgs)
Coating
Material
Grade
Package Quantity
Price
Quantity
EP325
8 mm
30 mm
2.80kg
NiCuNi
Neodymium
N42
2

£

6.78
EP344
5 mm
20 mm
1.00kg
NiCuNi
Neodymium
N42
10

£

18.08
EP344N52
5 mm
20 mm
1.4kg
NiCuNi
Neodymium
N52
10

£

21.57

Quantity Discount Pricing
Prices per number of Packs
Min
Max
£ / Pack
£ / Magnet
1
1
£21.57
£2.1570
2
4
£21.16
£2.1160
5
9
£20.23
£2.0230
10
£19.69
£1.9690

EP345
2 mm
8 mm
0.13kg
NiCuNi
Neodymium
N42
50

£

8.48
EP346
3 mm
13 mm
0.34Kg
NiCuNi
Neodymium
N42
25

£

9.03
EP346N52
3 mm
13 mm
0.45kg
NiCuNi
Neodymium
N52
25

£

10.71

Quantity Discount Pricing
Prices per number of Packs
Min
Max
£ / Pack
£ / Magnet
1
1
£10.71
£0.4284
2
3
£9.71
£0.3884
4
7
£9.05
£0.3620
8
£8.03
£0.3212

EP347
3 mm
20 mm
0.40kg
NiCuNi
Neodymium
N42
25

£

14.13
EP348
10 mm
10 mm
3.75kg
NiCuNi
Neodymium
N42
5

£

11.30
EP350
4 mm
6 mm
0.60kg
NiCuNi
Neodymium
N42
50

£

12.43
EP375
8 mm
20 mm
2.70kg
NiCuNi
Neodymium
N42
2

£

6.22
EP376
10 mm
20 mm
4.40kg
NiCuNi
Neodymium
N42
2

£

11.86
EP377
10 mm
30 mm
4.80 kg
NiCuNi
Neodymium
N42
2

£

13.56
EP382
20 mm
20 mm
16.00kg
NiCuNi
Neodymium
N42
1

£

17.29
EP395
6 mm
8 mm
1.40kg
NiCuNi
Neodymium
N42
20

£

16.94
EP395N52
6 mm
8 mm
1.76kg
NiCuNi
Neodymium
N52
10

£

10.98

Quantity Discount Pricing
Prices per number of Packs
Min
Max
£ / Pack
£ / Magnet
1
1
£10.98
£1.0980
2
4
£10.05
£1.0050
5
9
£9.64
£0.9640
10
£9.24
£0.9240

EP558D
3 mm
8 mm
0.30kg
NiCuNi
Neodymium
N42
50

£

13.56
EP642
5 mm
10 mm
0.95kg
NiCuNi
Neodymium
N42
20

£

15.26
EP642D
5 mm
10 mm
0.90kg
NiCuNi
Neodymium
N38
20

£

16.94
EP652
3 mm
4 mm
0.27kg
NiCuNi
Neodymium
N38
50

£

10.17
EP652N52
3 mm
4 mm
0.37kg
NiCuNi
Neodymium
N52
25

£

7.37

Quantity Discount Pricing
Prices per number of Packs
Min
Max
£ / Pack
£ / Magnet
1
1
£7.37
£0.2948
2
3
£6.03
£0.2412
4
7
£5.36
£0.2144
8
£5.02
£0.2008

EP653
5 mm
30 mm
1.05kg
NiCuNi
Neodymium
N42
5

£

10.17
EP683E
2 mm
4 mm
0.13kg
NiCuNi & Everlube
Neodymium
N42
50

£

16.97

Quantity Discount Pricing
Prices per number of Packs
Min
Max
£ / Pack
£ / Magnet
1
1
£16.97
£0.3394
2
4
£15.27
£0.3054
5
9
£14.50
£0.2900
10
£13.78
£0.2756