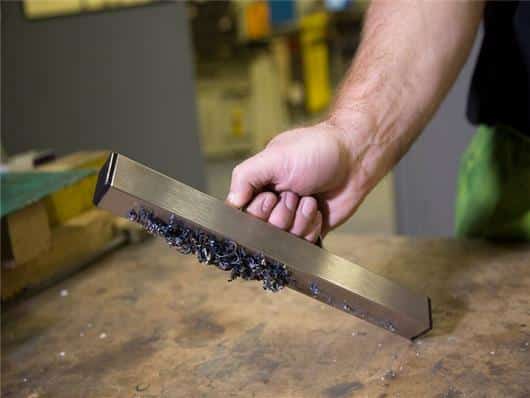 Magnetic Workshop Handheld Sweeper
Buy Magnetic Workshop Handheld Sweeper online with Bunting – eMagnets™
A 325mm long stainless steel encased magnetic sweeper ideal for picking up swarf in the workshop environment. The central 300mm is magnetically active. Simply hold the Workshop Handheld Sweeper by the handle and move towards the ferrous materials you wish to pick up. The side opposite the handle is where the active magnetic strip exists (the magnetic face is 30mm wide). After sweeping, simply wipe the collected material away (a cloth is all that is required). The Workshop Handheld Sweeper will clamp strongly onto metal sheets and plates, allowing easy storage against e.g. cabinets.
The Workshop Handheld Sweeper can also be used in offices, at home and in factory shop floors.
It is possible to produce stronger versions of this unit with the same overall dimensions. If interested, please contact us for a quotation.
Part #
Length
Width
Depth
Performance
Package Quantity
Price
Quantity
MAGSWEEP325WORKSHOP
325 mm
30 mm
30 mm
Variable pull.
1

£

65.00
Data Sheet