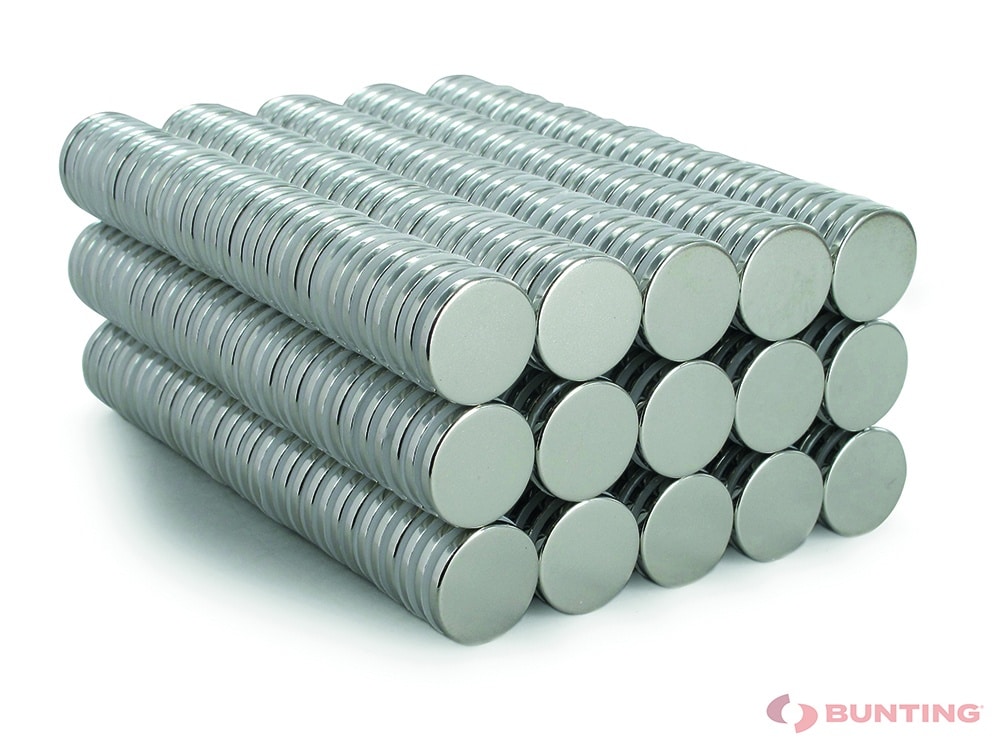 Neodymium Circular Disc Magnets
Buy Neodymium Circular Disc Magnets online with Bunting – eMagnets™
Despite their small size, our neodymium circular disc magnets pack a punch, reaching pull strengths of 21kg.
Using neodymium iron boron (NdFeB), they give you the highest pull per unit volume commercially available today. The result is reliable attraction over large distances, although they're also immensely useful for repulsion.
Whether you're using them for display, security, packaging, scientific experiments or even magic shows, you can count on these powerful circular disc magnets.
They're even triple-coated (NiCuNi) for complete protection against corrosion, offer extremely high resistance to being demagnetised and come with a standard manufacturing tolerance of +/- 0.1mm on all dimensions.
Part #
Diameter
Depth
Pull (Kgs)
Coating
Material
Grade
Package Quantity
Price
Quantity
E376
10 mm
20 mm
4.40kg
NiCuNi
Neodymium
N42
1

£

2.50

Quantity Discount Pricing
Prices per number of Packs
Min
Max
£ / Pack
£ / Magnet
1
19
£2.5
£2.5000
20
49
£1.90
£1.9000
50
99
£1.75
£1.7500
100
£1.70
£1.7000

EP101
3 mm
3 mm
0.27kg
NiCuNi
Neodymium
N42
50

£

7.43

Quantity Discount Pricing
Prices per number of Packs
Min
Max
£ / Pack
£ / Magnet
1
9
£7.43
£0.1486
10
19
£6.30
£0.1260
20
39
£5.13
£0.1026
40
£3.99
£0.0798

EP102
4 mm
4 mm
0.54kg
NiCuNi
Neodymium
N42
50

£

13.80

Quantity Discount Pricing
Prices per number of Packs
Min
Max
£ / Pack
£ / Magnet
1
4
£13.8
£0.2760
5
9
£12.42
£0.2484
10
19
£9.70
£0.1940
20
£8.56
£0.1712

EP102N38
4 mm
4 mm
0.54kg
NiCuNi
Neodymium
N38
50

£

10.00

Quantity Discount Pricing
Prices per number of Packs
Min
Max
£ / Pack
£ / Magnet
1
9
£10
£0.2000
10
19
£1.80
£0.0360
20
49
£1.50
£0.0300
50
99
£1.40
£0.0280
100
£1.00
£0.0200

EP103
5 mm
4 mm
0.75kg
NiCuNi
Neodymium
N42
25

£

6.28

Quantity Discount Pricing
Prices per number of Packs
Min
Max
£ / Pack
£ / Magnet
1
9
£6.28
£0.2512
10
19
£5.57
£0.2228
20
39
£4.57
£0.1828
40
£3.71
£0.1484

EP103N52
5 mm
4 mm
0.99kg
NiCuNi
Neodymium
N52
25

£

11.68

Quantity Discount Pricing
Prices per number of Packs
Min
Max
£ / Pack
£ / Magnet
1
9
£11.68
£0.4672
10
19
£10.62
£0.4248
20
39
£9.35
£0.3740
40
£7.79
£0.3116

EP105
12 mm
4 mm
3.28kg
NiCuNi
Neodymium
N42
10

£

10.76

Quantity Discount Pricing
Prices per number of Packs
Min
Max
£ / Pack
£ / Magnet
1
9
£10.76
£1.0760
10
19
£10.04
£1.0040
20
39
£9.41
£0.9410
40
£8.61
£0.8610

EP105N52
12 mm
4 mm
4.07kg
NiCuNi
Neodymium
N52
10

£

11.84

Quantity Discount Pricing
Prices per number of Packs
Min
Max
£ / Pack
£ / Magnet
1
9
£11.84
£1.1840
10
19
£11.04
£1.1040
20
39
£10.35
£1.0350
40
£9.47
£0.9470

EP105N55
12 mm
4 mm
4.3kg
NiCuNi
Neodymium
N55
10

£

12.37

Quantity Discount Pricing
Prices per number of Packs
Min
Max
£ / Pack
£ / Magnet
1
9
£12.37
£1.2370
10
19
£11.55
£1.1550
20
39
£10.82
£1.0820
40
£9.90
£0.9900

EP106
14 mm
2 mm
1.88kg
NiCuNi
Neodymium
N42
10

£

8.55

Quantity Discount Pricing
Prices per number of Packs
Min
Max
£ / Pack
£ / Magnet
1
9
£8.55
£0.8550
10
19
£7.76
£0.7760
20
39
£7.08
£0.7080
40
£6.85
£0.6850

EP107
15 mm
3 mm
3.24kg
NiCuNi
Neodymium
N42
10

£

16.55

Quantity Discount Pricing
Prices per number of Packs
Min
Max
£ / Pack
£ / Magnet
1
9
£16.55
£1.6550
10
19
£14.27
£1.4270
20
39
£12.56
£1.2560
40
£10.85
£1.0850

EP108
15 mm
5 mm
5.48kg
NiCuNi
Neodymium
N42
5

£

11.04

Quantity Discount Pricing
Prices per number of Packs
Min
Max
£ / Pack
£ / Magnet
1
19
£11.04
£2.2080
20
39
£10.05
£2.0100
40
79
£8.51
£1.7020
80
£6.85
£1.3700

EP109
18 mm
2 mm
2.55kg
NiCuNi
Neodymium
N42
10

£

8.78

Quantity Discount Pricing
Prices per number of Packs
Min
Max
£ / Pack
£ / Magnet
1
9
£8.78
£0.8780
10
19
£7.74
£0.7740
20
39
£6.93
£0.6930
40
£6.27
£0.6270

EP110
18 mm
5 mm
5.75kg
NiCuNi
Neodymium
N42
10

£

18.28

Quantity Discount Pricing
Prices per number of Packs
Min
Max
£ / Pack
£ / Magnet
1
9
£18.28
£1.8280
10
19
£16.13
£1.6130
20
39
£14.43
£1.4430
40
£13.06
£1.3060

EP110N52
18 mm
5mm
8.45kg
NiCuNi
Neodymium
N52
5

£

13.55

Quantity Discount Pricing
Prices per number of Packs
Min
Max
£ / Pack
£ / Magnet
1
9
£13.55
£2.7100
10
19
£12.32
£2.4640
20
39
£10.84
£2.1680
40
£9.03
£1.8060

EP111
19 mm
2 mm
2.72kg
NiCuNi
Neodymium
N42
10

£

12.54

Quantity Discount Pricing
Prices per number of Packs
Min
Max
£ / Pack
£ / Magnet
1
9
£12.54
£1.2540
10
19
£10.85
£1.0850
20
39
£9.70
£0.9700
40
£8.56
£0.8560

EP112
25 mm
3 mm
5.35kg
NiCuNi
Neodymium
N42
2

£

7.14

Quantity Discount Pricing
Prices per number of Packs
Min
Max
£ / Pack
£ / Magnet
1
9
£7.14
£3.5700
10
19
£6.59
£3.2950
20
39
£5.97
£2.9850
40
£5.13
£2.5650

EP113
25 mm
5 mm
10.32kg
NiCuNi
Neodymium
N42
1

£

3.94

Quantity Discount Pricing
Prices per number of Packs
Min
Max
£ / Pack
£ / Magnet
1
9
£3.94
£3.9400
10
19
£3.71
£3.7100
20
39
£3.36
£3.3600
40
£2.80
£2.8000

EP113N52
25 mm
5 mm
12.79kg
NiCuNi
Neodymium
N52
2

£

12.57

Quantity Discount Pricing
Prices per number of Packs
Min
Max
£ / Pack
£ / Magnet
1
9
£12.57
£6.2850
10
19
£11.43
£5.7150
20
39
£10.06
£5.0300
40
£8.38
£4.1900

EP114
30 mm
5 mm
11.83kg
NiCuNi
Neodymium
N42
1

£

7.85

Quantity Discount Pricing
Prices per number of Packs
Min
Max
£ / Pack
£ / Magnet
1
9
£7.85
£7.8500
10
19
£7.13
£7.1300
20
39
£6.22
£6.2200
40
£5.42
£5.4200

EP115
35 mm
5 mm
13.00kg
NiCuNi
Neodymium
N42
1

£

19.56

Quantity Discount Pricing
Prices per number of Packs
Min
Max
£ / Pack
£ / Magnet
1
9
£19.56
£19.5600
10
19
£18.27
£18.2700
20
39
£17.11
£17.1100
40
£15.65
£15.6500

EP122
2 mm
2 mm
0.10kg
NiCuNi
Neodymium
N42
50

£

8.55

Quantity Discount Pricing
Prices per number of Packs
Min
Max
£ / Pack
£ / Magnet
1
9
£8.55
£0.1710
10
19
£6.85
£0.1370
20
39
£5.13
£0.1026
40
£3.99
£0.0798

EP148N35
15 mm
7 mm
5.6kg
NiCuNi
Neodymium
N35
5

£

11.04

Quantity Discount Pricing
Prices per number of Packs
Min
Max
£ / Pack
£ / Magnet
1
19
£11.04
£2.2080
20
39
£10.05
£2.0100
40
79
£8.51
£1.7020
80
£6.85
£1.3700

EP288N52
20 mm
2 mm
3.48kg
NiCuNi
Neodymium
N52
10

£

16.36

Quantity Discount Pricing
Prices per number of Packs
Min
Max
£ / Pack
£ / Magnet
1
9
£16.36
£1.6360
10
19
£14.87
£1.4870
20
39
£13.08
£1.3080
40
£10.90
£1.0900

EP290
15 mm
0.5 mm
0.30kg
NiCuNi
Neodymium
N42
20

£

11.41

Quantity Discount Pricing
Prices per number of Packs
Min
Max
£ / Pack
£ / Magnet
1
4
£11.41
£0.5705
5
9
£10.27
£0.5135
10
19
£9.12
£0.4560
20
£7.99
£0.3995

EP303
2 mm
1 mm
0.07kg
NiCuNi
Neodymium
N42
100

£

9.12

Quantity Discount Pricing
Prices per number of Packs
Min
Max
£ / Pack
£ / Magnet
1
4
£9.12
£0.0912
5
9
£8.21
£0.0821
10
19
£7.41
£0.0741
20
£5.70
£0.0570

EP304
5 mm
3 mm
0.60kg
NiCuNi
Neodymium
N42
25

£

4.78

Quantity Discount Pricing
Prices per number of Packs
Min
Max
£ / Pack
£ / Magnet
1
9
£4.78
£0.1912
10
19
£4.28
£0.1712
20
39
£3.71
£0.1484
40
£3.14
£0.1256

EP305
1 mm
1 mm
0.02kg
NiCuNi
Neodymium
N42
100

£

13.10

Quantity Discount Pricing
Prices per number of Packs
Min
Max
£ / Pack
£ / Magnet
1
4
£13.1
£0.1310
5
9
£12.22
£0.1222
10
19
£11.46
£0.1146
20
£10.48
£0.1048

EP306
6 mm
1 mm
0.30kg
NiCuNi
Neodymium
N42
50

£

8.45

Quantity Discount Pricing
Prices per number of Packs
Min
Max
£ / Pack
£ / Magnet
1
4
£8.45
£0.1690
5
9
£6.85
£0.1370
10
19
£5.42
£0.1084
20
£4.57
£0.0914

EP307
10 mm
1 mm
0.50kg
NiCuNi
Neodymium
N42
20

£

5.14

Quantity Discount Pricing
Prices per number of Packs
Min
Max
£ / Pack
£ / Magnet
1
9
£5.14
£0.2570
10
19
£4.62
£0.2310
20
39
£4.11
£0.2055
40
£3.42
£0.1710

EP307N52
10 mm
1 mm
0.70Kg
NiCuNi
Neodymium
N52
40

£

13.46

Quantity Discount Pricing
Prices per number of Packs
Min
Max
£ / Pack
£ / Magnet
1
9
£13.46
£0.3365
10
19
£12.23
£0.3058
20
39
£10.77
£0.2693
40
£8.97
£0.2243

EP308
12 mm
1 mm
0.65kg
NiCuNi
Neodymium
N42
20

£

6.28

Quantity Discount Pricing
Prices per number of Packs
Min
Max
£ / Pack
£ / Magnet
1
9
£6.28
£0.3140
10
19
£5.48
£0.2740
20
39
£4.57
£0.2285
40
£3.66
£0.1830

EP309
15 mm
1 mm
0.80kg
NiCuNi
Neodymium
N42
20

£

10.28
EP310
15 mm
2 mm
1.65kg
NiCuNi
Neodymium
N42
10

£

8.61

Quantity Discount Pricing
Prices per number of Packs
Min
Max
£ / Pack
£ / Magnet
1
9
£8.61
£0.8610
10
19
£7.82
£0.7820
20
39
£7.36
£0.7360
40
£6.80
£0.6800

EP310N52
15 mm
2 mm
2.54kg
NiCuNi
Neodymium
N52
10

£

9.58

Quantity Discount Pricing
Prices per number of Packs
Min
Max
£ / Pack
£ / Magnet
1
9
£9.58
£0.9580
10
19
£8.71
£0.8710
20
39
£7.66
£0.7660
40
£6.39
£0.6390

EP311
25 mm
2 mm
3.20kg
NiCuNi
Neodymium
N42
2

£

5.14

Quantity Discount Pricing
Prices per number of Packs
Min
Max
£ / Pack
£ / Magnet
1
9
£5.14
£2.5700
10
19
£4.79
£2.3950
20
39
£4.46
£2.2300
40
£3.99
£1.9950

EP311N52
25 mm
2 mm
4.59kg
NiCuNi
Neodymium
N52
5

£

14.09

Quantity Discount Pricing
Prices per number of Packs
Min
Max
£ / Pack
£ / Magnet
1
9
£14.09
£2.8180
10
19
£12.81
£2.5620
20
39
£11.27
£2.2540
40
£9.39
£1.8780

EP322
8 mm
1 mm
0.40kg
NiCuNi
Neodymium
N42
25

£

6.28

Quantity Discount Pricing
Prices per number of Packs
Min
Max
£ / Pack
£ / Magnet
1
9
£6.28
£0.2512
10
19
£5.00
£0.2000
20
39
£4.28
£0.1712
40
£3.42
£0.1368

EP323
8 mm
2 mm
0.80kg
NiCuNi
Neodymium
N42
25

£

7.13

Quantity Discount Pricing
Prices per number of Packs
Min
Max
£ / Pack
£ / Magnet
1
9
£7.13
£0.2852
10
19
£6.13
£0.2452
20
39
£5.00
£0.2000
40
£4.28
£0.1712

EP323N52
8 mm
2 mm
1.1kg
NiCuNi
Neodymium
N52
25

£

12.15

Quantity Discount Pricing
Prices per number of Packs
Min
Max
£ / Pack
£ / Magnet
1
9
£12.15
£0.4860
10
19
£11.05
£0.4420
20
39
£9.72
£0.3888
40
£8.10
£0.3240

EP324
8 mm
5 mm
2.00kg
NiCuNi
Neodymium
N42
20

£

11.70

Quantity Discount Pricing
Prices per number of Packs
Min
Max
£ / Pack
£ / Magnet
1
9
£11.7
£0.5850
10
19
£10.27
£0.5135
20
39
£8.90
£0.4450
40
£7.08
£0.3540

EP324N55
8 mm
5 mm
2.7kg
NiCuNi
Neodymium
N55
20

£

13.46

Quantity Discount Pricing
Prices per number of Packs
Min
Max
£ / Pack
£ / Magnet
1
9
£13.46
£0.6730
10
19
£11.81
£0.5905
20
39
£10.24
£0.5120
40
£8.14
£0.4070

EP324N52
8 mm
5 mm
2.57kg
NiCuNi
Neodymium
N52
20

£

12.87

Quantity Discount Pricing
Prices per number of Packs
Min
Max
£ / Pack
£ / Magnet
1
9
£12.87
£0.6435
10
19
£11.30
£0.5650
20
39
£9.79
£0.4895
40
£7.79
£0.3895

EP327
9 mm
3 mm
1.50kg
NiCuNi
Neodymium
N42
20

£

8.55

Quantity Discount Pricing
Prices per number of Packs
Min
Max
£ / Pack
£ / Magnet
1
9
£8.55
£0.4275
10
19
£7.53
£0.3765
20
39
£6.17
£0.3085
40
£5.02
£0.2510

EP334
13 mm
3 mm
2.10kg
NiCuNi
Neodymium
N42
10

£

12.43

Quantity Discount Pricing
Prices per number of Packs
Min
Max
£ / Pack
£ / Magnet
1
9
£12.43
£1.2430
10
19
£10.97
£1.0970
20
39
£9.81
£0.9810
40
£8.88
£0.8880

EP336
20 mm
5 mm
6.40kg
NiCuNi
Neodymium
N42
2

£

5.59

Quantity Discount Pricing
Prices per number of Packs
Min
Max
£ / Pack
£ / Magnet
1
4
£5.59
£2.7950
5
49
£5.02
£2.5100
50
99
£4.29
£2.1450
100
£3.38
£1.6900

EP336N55
20 mm
5 mm
10.3kg
NiCuNi
Neodymium
N55
5

£

16.07

Quantity Discount Pricing
Prices per number of Packs
Min
Max
£ / Pack
£ / Magnet
1
9
£16.07
£3.2140
10
19
£14.43
£2.8860
20
39
£12.33
£2.4660
40
£9.72
£1.9440

EP336N52
20 mm
5 mm
9.67kg
NiCuNi
Neodymium
N52
5

£

15.37

Quantity Discount Pricing
Prices per number of Packs
Min
Max
£ / Pack
£ / Magnet
1
9
£15.37
£3.0740
10
19
£13.81
£2.7620
20
39
£11.80
£2.3600
40
£9.30
£1.8600

EP342
4 mm
0.5 mm
0.09kg
NiCuNi
Neodymium
N42
50

£

7.18

Quantity Discount Pricing
Prices per number of Packs
Min
Max
£ / Pack
£ / Magnet
1
9
£7.18
£0.1436
10
19
£5.70
£0.1140
20
39
£3.99
£0.0798
40
£2.86
£0.0572

EP343
4 mm
1 mm
0.18kg
NiCuNi
Neodymium
N42
50

£

5.65

Quantity Discount Pricing
Prices per number of Packs
Min
Max
£ / Pack
£ / Magnet
1
9
£5.65
£0.1130
10
19
£4.57
£0.0914
20
39
£3.42
£0.0684
40
£2.57
£0.0514

EP348N55
10 mm
10 mm
5.3kg
NiCuNi
Neodymium
N55
10

£

21.88

Quantity Discount Pricing
Prices per number of Packs
Min
Max
£ / Pack
£ / Magnet
1
9
£21.88
£2.1880
10
19
£19.89
£1.9890
20
39
£17.51
£1.7510
40
£14.59
£1.4590

EP348N52
10 mm
10 mm
4.98kg
NiCuNi
Neodymium
N52
20

£

41.68

Quantity Discount Pricing
Prices per number of Packs
Min
Max
£ / Pack
£ / Magnet
1
9
£41.68
£2.0840
10
19
£37.89
£1.8945
20
39
£33.35
£1.6675
40
£27.79
£1.3895

EP349
10 mm
0.4 mm
0.15kg
NiCuNi
Neodymium
N42
50

£

19.83

Quantity Discount Pricing
Prices per number of Packs
Min
Max
£ / Pack
£ / Magnet
1
3
£19.83
£0.3966
4
7
£17.12
£0.3424
8
15
£14.27
£0.2854
16
£11.41
£0.2282

EP355
22 mm
10 mm
13.00kg
NiCuNi
Neodymium
N42
1

£

5.27

Quantity Discount Pricing
Prices per number of Packs
Min
Max
£ / Pack
£ / Magnet
1
19
£5.27
£5.2700
20
39
£4.65
£4.6500
40
79
£4.15
£4.1500
80
£3.76
£3.7600

EP358
25 mm
10 mm
15.50kg
NiCuNi
Neodymium
N42
1

£

8.21

Quantity Discount Pricing
Prices per number of Packs
Min
Max
£ / Pack
£ / Magnet
1
9
£8.21
£8.2100
10
19
£7.71
£7.7100
20
39
£7.13
£7.1300
40
£6.28
£6.2800

EP358N52
25 mm
10 mm
21.25kg
NiCuNi
Neodymium
N52
1

£

11.05

Quantity Discount Pricing
Prices per number of Packs
Min
Max
£ / Pack
£ / Magnet
1
9
£11.05
£11.0500
10
19
£10.04
£10.0400
20
39
£8.84
£8.8400
40
£7.36
£7.3600

EP359
14 mm
4 mm
3.10kg
NiCuNi
Neodymium
N42
10

£

17.00

Quantity Discount Pricing
Prices per number of Packs
Min
Max
£ / Pack
£ / Magnet
1
9
£17
£1.7000
10
19
£14.84
£1.4840
20
39
£12.78
£1.2780
40
£11.30
£1.1300

EP360
40 mm
5 mm
14.00kg
NiCuNi
Neodymium
N42
1

£

11.97

Quantity Discount Pricing
Prices per number of Packs
Min
Max
£ / Pack
£ / Magnet
1
9
£11.97
£11.9700
10
19
£11.13
£11.1300
20
39
£10.22
£10.2200
40
£9.42
£9.4200

EP360N52
40 mm
5 mm
17.53kg
NiCuNi
Neodymium
N52
1

£

15.29

Quantity Discount Pricing
Prices per number of Packs
Min
Max
£ / Pack
£ / Magnet
1
9
£15.29
£15.2900
10
19
£13.90
£13.9000
20
39
£12.24
£12.2400
40
£10.20
£10.2000

EP370
12 mm
2 mm
1.30kg
NiCuNi
Neodymium
N42
20

£

9.12

Quantity Discount Pricing
Prices per number of Packs
Min
Max
£ / Pack
£ / Magnet
1
9
£9.12
£0.4560
10
19
£7.99
£0.3995
20
39
£6.85
£0.3425
40
£5.70
£0.2850

EP371
17 mm
2 mm
1.60kg
NiCuNi
Neodymium
N42
10

£

17.92

Quantity Discount Pricing
Prices per number of Packs
Min
Max
£ / Pack
£ / Magnet
1
9
£17.92
£1.7920
10
19
£15.93
£1.5930
20
39
£14.34
£1.4340
40
£13.04
£1.3040

EP372
18 mm
3 mm
3.40kg
NiCuNi
Neodymium
N42
10

£

9.34

Quantity Discount Pricing
Prices per number of Packs
Min
Max
£ / Pack
£ / Magnet
1
9
£9.34
£0.9340
10
19
£9.32
£0.9320
20
39
£9.24
£0.9240
40
£8.36
£0.8360

EP380
8 mm
4 mm
1.60kg
NiCuNi
Neodymium
N42
20

£

8.78

Quantity Discount Pricing
Prices per number of Packs
Min
Max
£ / Pack
£ / Magnet
1
9
£8.78
£0.4390
10
24
£7.74
£0.3870
25
49
£6.93
£0.3465
50
£6.27
£0.3135

EP390
6 mm
2 mm
0.60kg
NiCuNi
Neodymium
N42
25

£

5.14

Quantity Discount Pricing
Prices per number of Packs
Min
Max
£ / Pack
£ / Magnet
1
9
£5.14
£0.2056
10
19
£4.57
£0.1828
20
39
£3.57
£0.1428
40
£2.86
£0.1144

EP390N52
6 mm
2 mm
0.74kg
NiCuNi
Neodymium
N52
50

£

17.99

Quantity Discount Pricing
Prices per number of Packs
Min
Max
£ / Pack
£ / Magnet
1
9
£17.99
£0.3598
10
19
£16.36
£0.3272
20
39
£14.39
£0.2878
40
£11.99
£0.2398

EP392
3 mm
2 mm
0.24kg
NiCuNi
Neodymium
N42
50

£

6.28

Quantity Discount Pricing
Prices per number of Packs
Min
Max
£ / Pack
£ / Magnet
1
9
£6.28
£0.1256
10
19
£5.70
£0.1140
20
39
£5.13
£0.1026
40
£4.57
£0.0914

EP392N55
3 mm
2 mm
0.3kg
NiCuNi
Neodymium
N55
100

£

14.44

Quantity Discount Pricing
Prices per number of Packs
Min
Max
£ / Pack
£ / Magnet
1
9
£14.44
£0.1444
10
19
£13.11
£0.1311
20
39
£11.80
£0.1180
40
£10.51
£0.1051

EP392N52
3 mm
2 mm
0.27kg
NiCuNi
Neodymium
N52
100

£

13.82

Quantity Discount Pricing
Prices per number of Packs
Min
Max
£ / Pack
£ / Magnet
1
9
£13.82
£0.1382
10
19
£12.54
£0.1254
20
39
£11.29
£0.1129
40
£10.05
£0.1005

EP393
4 mm
3 mm
0.50kg
NiCuNi
Neodymium
N42
50

£

9.78

Quantity Discount Pricing
Prices per number of Packs
Min
Max
£ / Pack
£ / Magnet
1
4
£9.78
£0.1956
5
9
£9.13
£0.1826
10
19
£8.56
£0.1712
20
£7.82
£0.1564

EP393N52
4 mm
3 mm
0.57kg
NiCuNi
Neodymium
N52
50

£

15.19

Quantity Discount Pricing
Prices per number of Packs
Min
Max
£ / Pack
£ / Magnet
1
4
£15.19
£0.3038
5
9
£13.81
£0.2762
10
19
£12.15
£0.2430
20
£10.12
£0.2024

EP397
4 mm
2 mm
0.36kg
NiCuNi
Neodymium
N42
50

£

8.00

Quantity Discount Pricing
Prices per number of Packs
Min
Max
£ / Pack
£ / Magnet
1
9
£8
£0.1600
10
19
£7.00
£0.1400
20
39
£6.50
£0.1300
40
£6.00
£0.1200

EP397N52
4 mm
2 mm
0.42kg
NiCuNi
Neodymium
N52
50

£

11.68

Quantity Discount Pricing
Prices per number of Packs
Min
Max
£ / Pack
£ / Magnet
1
9
£11.68
£0.2336
10
19
£10.62
£0.2124
20
39
£9.35
£0.1870
40
£7.79
£0.1558

EP399
10 mm
1.5 mm
0.80kg
NiCuNi
Neodymium
N42
20

£

10.43

Quantity Discount Pricing
Prices per number of Packs
Min
Max
£ / Pack
£ / Magnet
1
9
£10.43
£0.5215
10
19
£9.74
£0.4870
20
39
£9.13
£0.4565
40
£8.11
£0.4055

EP400
3 mm
1 mm
0.12kg
NiCuNi
Neodymium
N42
50

£

5.14

Quantity Discount Pricing
Prices per number of Packs
Min
Max
£ / Pack
£ / Magnet
1
9
£5.14
£0.1028
10
19
£4.57
£0.0914
20
39
£3.99
£0.0798
40
£3.42
£0.0684

EP401
5 mm
1 mm
0.20kg
NiCuNi
Neodymium
N42
50

£

7.18

Quantity Discount Pricing
Prices per number of Packs
Min
Max
£ / Pack
£ / Magnet
1
4
£7.18
£0.1436
5
9
£6.00
£0.1200
10
19
£4.57
£0.0914
20
£3.42
£0.0684

EP403A
10 mm
2 mm
1.40kg
NiCuNi
Neodymium
N42
20

£

7.38

Quantity Discount Pricing
Prices per number of Packs
Min
Max
£ / Pack
£ / Magnet
1
4
£7.38
£0.3690
5
24
£6.73
£0.3365
25
49
£5.69
£0.2845
50
£4.69
£0.2345

EP403N
10 mm
2 mm
1.00kg
Zinc
Neodymium
N35
20

£

7.20

Quantity Discount Pricing
Prices per number of Packs
Min
Max
£ / Pack
£ / Magnet
1
4
£7.2
£0.3600
5
24
£6.40
£0.3200
25
£5.80
£0.2900

EP403N52
10 mm
2 mm
1.00kg
NiCuNi
Neodymium
N52
20

£

10.65

Quantity Discount Pricing
Prices per number of Packs
Min
Max
£ / Pack
£ / Magnet
1
4
£10.65
£0.5325
5
24
£9.69
£0.4845
25
49
£8.52
£0.4260
50
£7.10
£0.3550

EP404
12 mm
3 mm
2.10kg
NiCuNi
Neodymium
N50
20

£

18.32

Quantity Discount Pricing
Prices per number of Packs
Min
Max
£ / Pack
£ / Magnet
1
9
£18.32
£0.9160
10
£16.65
£0.8325

EP405
7 mm
5 mm
2.1kg
NiCuNi
Neodymium
N50
20

£

16.36

Quantity Discount Pricing
Prices per number of Packs
Min
Max
£ / Pack
£ / Magnet
1
9
£16.36
£0.8180
10
19
£14.87
£0.7435
20
39
£13.08
£0.6540
40
£10.90
£0.5450

EP406
20 mm
3 mm
3.60kg
NiCuNi
Neodymium
N42
5

£

9.12

Quantity Discount Pricing
Prices per number of Packs
Min
Max
£ / Pack
£ / Magnet
1
9
£9.12
£1.8240
10
19
£8.28
£1.6560
20
39
£6.85
£1.3700
40
£5.42
£1.0840

EP406N52
20 mm
3 mm
5.37kg
NiCuNi
Neodymium
N52
5

£

12.27

Quantity Discount Pricing
Prices per number of Packs
Min
Max
£ / Pack
£ / Magnet
1
9
£12.27
£2.4540
10
19
£11.15
£2.2300
20
39
£9.81
£1.9620
40
£8.18
£1.6360

EP407
20 mm
1 mm
1.10kg
NiCuNi
Neodymium
N42
10

£

11.08

Quantity Discount Pricing
Prices per number of Packs
Min
Max
£ / Pack
£ / Magnet
1
9
£11.08
£1.1080
10
19
£10.34
£1.0340
20
39
£9.70
£0.9700
40
£8.87
£0.8870

EP528
15 mm
4 mm
3.30kg
NiCuNi
Neodymium
N42
10

£

10.97

Quantity Discount Pricing
Prices per number of Packs
Min
Max
£ / Pack
£ / Magnet
1
9
£10.97
£1.0970
10
19
£9.68
£0.9680
20
39
£8.66
£0.8660
40
£7.83
£0.7830

EP528N55
15 mm
4 mm
5.8kg
NiCuNi
Neodymium
N55
10

£

12.62

Quantity Discount Pricing
Prices per number of Packs
Min
Max
£ / Pack
£ / Magnet
1
9
£12.62
£1.2620
10
19
£11.13
£1.1130
20
39
£9.96
£0.9960
40
£9.00
£0.9000

EP528N52
15 mm
4 mm
5.51kg
NiCuNi
Neodymium
N52
10

£

12.07

Quantity Discount Pricing
Prices per number of Packs
Min
Max
£ / Pack
£ / Magnet
1
9
£12.07
£1.2070
10
19
£10.65
£1.0650
20
39
£9.53
£0.9530
40
£8.61
£0.8610

EP530
22 mm
6 mm
8.50kg
NiCuNi
Neodymium
N42
2

£

6.73

Quantity Discount Pricing
Prices per number of Packs
Min
Max
£ / Pack
£ / Magnet
1
9
£6.73
£3.3650
10
19
£5.94
£2.9700
20
39
£5.31
£2.6550
40
£4.80
£2.4000

EP543
22 mm
8 mm
11.00kg
NiCuNi
Neodymium
N42
2

£

11.70

Quantity Discount Pricing
Prices per number of Packs
Min
Max
£ / Pack
£ / Magnet
1
9
£11.7
£5.8500
10
19
£10.33
£5.1650
20
39
£9.24
£4.6200
40
£8.36
£4.1800

EP559
20 mm
0.5 mm
0.45kg
NiCuNi
Neodymium
N42
10

£

8.55

Quantity Discount Pricing
Prices per number of Packs
Min
Max
£ / Pack
£ / Magnet
1
9
£8.55
£0.8550
10
19
£7.41
£0.7410
20
39
£6.28
£0.6280
40
£5.13
£0.5130

EP641
5 mm
5 mm
0.80kg
NiCuNi
Neodymium
N38
20

£

4.38

Quantity Discount Pricing
Prices per number of Packs
Min
Max
£ / Pack
£ / Magnet
1
9
£4.38
£0.2190
10
24
£3.99
£0.1995
25
49
£3.66
£0.1830
50
£3.42
£0.1710

EP643
6 mm
3 mm
0.90kg
NiCuNi
Neodymium
N42
25

£

7.13

Quantity Discount Pricing
Prices per number of Packs
Min
Max
£ / Pack
£ / Magnet
1
9
£7.13
£0.2852
10
19
£6.42
£0.2568
20
39
£5.42
£0.2168
40
£4.57
£0.1828

EP644
6 mm
6 mm
1.30kg
NiCuNi
Neodymium
N42
20

£

9.12

Quantity Discount Pricing
Prices per number of Packs
Min
Max
£ / Pack
£ / Magnet
1
9
£9.12
£0.4560
10
24
£8.21
£0.4105
25
49
£6.62
£0.3310
50
£5.48
£0.2740

EP644N52
6 mm
6 mm
1.67kg
NiCuNi
Neodymium
N52
20

£

16.36

Quantity Discount Pricing
Prices per number of Packs
Min
Max
£ / Pack
£ / Magnet
1
9
£16.36
£0.8180
10
19
£14.87
£0.7435
20
39
£13.08
£0.6540
40
£10.90
£0.5450

EP645
10 mm
5 mm
2.70kg
NiCuNi
Neodymium
N42
10

£

7.90

Quantity Discount Pricing
Prices per number of Packs
Min
Max
£ / Pack
£ / Magnet
1
19
£7.9
£0.7900
20
39
£7.20
£0.7200
40
79
£6.50
£0.6500
80
£5.90
£0.5900

EP645N52
10 mm
5 mm
3.64kg
NiCuNi
Neodymium
N52
20

£

17.38

Quantity Discount Pricing
Prices per number of Packs
Min
Max
£ / Pack
£ / Magnet
1
9
£17.38
£0.8690
10
19
£15.84
£0.7920
20
39
£14.30
£0.7150
40
£12.98
£0.6490

EP645N55
10 mm
5 mm
3.9kg
NiCuNi
Neodymium
N55
20

£

18.17

Quantity Discount Pricing
Prices per number of Packs
Min
Max
£ / Pack
£ / Magnet
1
9
£18.17
£0.9085
10
19
£16.56
£0.8280
20
39
£14.95
£0.7475
40
£13.57
£0.6785

EP646
20 mm
10 mm
11.00kg
NiCuNi
Neodymium
N42
2

£

9.61

Quantity Discount Pricing
Prices per number of Packs
Min
Max
£ / Pack
£ / Magnet
1
4
£9.61
£4.8050
5
49
£8.79
£4.3950
50
99
£7.99
£3.9950
100
£7.50
£3.7500

EP646N52
20 mm
10 mm
15.13kg
NiCuNi
Neodymium
N52
2

£

15.31

Quantity Discount Pricing
Prices per number of Packs
Min
Max
£ / Pack
£ / Magnet
1
4
£15.31
£7.6550
5
49
£13.92
£6.9600
50
99
£12.25
£6.1250
100
£10.21
£5.1050

EP654
10 mm
4 mm
2.20kg
NiCuNi
Neodymium
N42
10

£

6.17

Quantity Discount Pricing
Prices per number of Packs
Min
Max
£ / Pack
£ / Magnet
1
19
£6.17
£0.6170
20
39
£5.70
£0.5700
40
79
£5.25
£0.5250
80
£4.79
£0.4790

EP654N52
10 mm
4 mm
3.11kg
NiCuNi
Neodymium
N52
20

£

18.04

Quantity Discount Pricing
Prices per number of Packs
Min
Max
£ / Pack
£ / Magnet
1
19
£18.04
£0.9020
20
39
£16.40
£0.8200
40
79
£14.43
£0.7215
80
£12.02
£0.6010

EP655
19 mm
5 mm
6.00kg
NiCuNi
Neodymium
N42
4

£

8.48

Quantity Discount Pricing
Prices per number of Packs
Min
Max
£ / Pack
£ / Magnet
1
24
£8.48
£2.1200
25
49
£7.48
£1.8700
50
99
£6.69
£1.6725
100
£6.06
£1.5150

EP656
12 mm
3 mm
1.90kg
NiCuNi
Neodymium
N42
10

£

6.03

Quantity Discount Pricing
Prices per number of Packs
Min
Max
£ / Pack
£ / Magnet
1
19
£6.03
£0.6030
20
39
£4.67
£0.4670
40
79
£4.26
£0.4260
80
£3.85
£0.3850

EP657
6 mm
4 mm
1.20kg
NiCuNi
Neodymium
N42
20

£

9.13

Quantity Discount Pricing
Prices per number of Packs
Min
Max
£ / Pack
£ / Magnet
1
9
£9.13
£0.4565
10
24
£8.52
£0.4260
25
49
£7.99
£0.3995
50
£7.30
£0.3650

EP657N52
6 mm
4 mm
1.37Kg
NiCuNi
Neodymium
N52
25

£

14.49

Quantity Discount Pricing
Prices per number of Packs
Min
Max
£ / Pack
£ / Magnet
1
9
£14.49
£0.5796
10
19
£13.17
£0.5268
20
39
£11.59
£0.4636
40
£9.66
£0.3864

EP658
6 mm
5 mm
1.30kg
NiCuNi
Neodymium
N42
20

£

10.92

Quantity Discount Pricing
Prices per number of Packs
Min
Max
£ / Pack
£ / Magnet
1
9
£10.92
£0.5460
10
24
£9.56
£0.4780
25
49
£7.65
£0.3825
50
£6.38
£0.3190

EP659
10 mm
3 mm
1.60kg
NiCuNi
Neodymium
N42
20

£

10.72

Quantity Discount Pricing
Prices per number of Packs
Min
Max
£ / Pack
£ / Magnet
1
9
£10.72
£0.5360
10
19
£9.92
£0.4960
20
39
£8.67
£0.4335
40
£7.76
£0.3880

EP659N52
10 mm
3 mm
2.43kg
NiCuNi
Neodymium
N52
20

£

14.95

Quantity Discount Pricing
Prices per number of Packs
Min
Max
£ / Pack
£ / Magnet
1
9
£14.95
£0.7475
10
19
£13.59
£0.6795
20
39
£11.96
£0.5980
40
£9.97
£0.4985

EP889N35
8.5 mm
5 mm
1.9kg
NiCuNi
Neodymium
N35
20

£

6.08

Quantity Discount Pricing
Prices per number of Packs
Min
Max
£ / Pack
£ / Magnet
1
9
£6.08
£0.3040
10
19
£5.63
£0.2815
20
39
£4.50
£0.2250
40
£4.05
£0.2025

EP991
9.5 mm
1 mm
0.45kgs
NiCuNi
Neodymium
N42
20

£

4.95

Quantity Discount Pricing
Prices per number of Packs
Min
Max
£ / Pack
£ / Magnet
1
9
£4.95
£0.2475
10
19
£4.50
£0.2250
20
39
£3.83
£0.1915
40
£3.15
£0.1575

EP992
9.5 mm
2 mm
1.10Kgs
NiCuNi
Neodymium
N42
20

£

8.33

Quantity Discount Pricing
Prices per number of Packs
Min
Max
£ / Pack
£ / Magnet
1
9
£8.33
£0.4165
10
19
£7.43
£0.3715
20
39
£6.53
£0.3265
40
£5.63
£0.2815