Bunting – eMagnets stock an impressive range of Magnetic Catches for wide ranging applications. Our standard range incorporates General Purpose, Clip In, Surface Mounted, Knock In Catches and Touch Latches. In addition to our extensive range of standard catches we also offer our premium, Elite Magnetic Catches dedicated to high end bespoke furniture manufacture.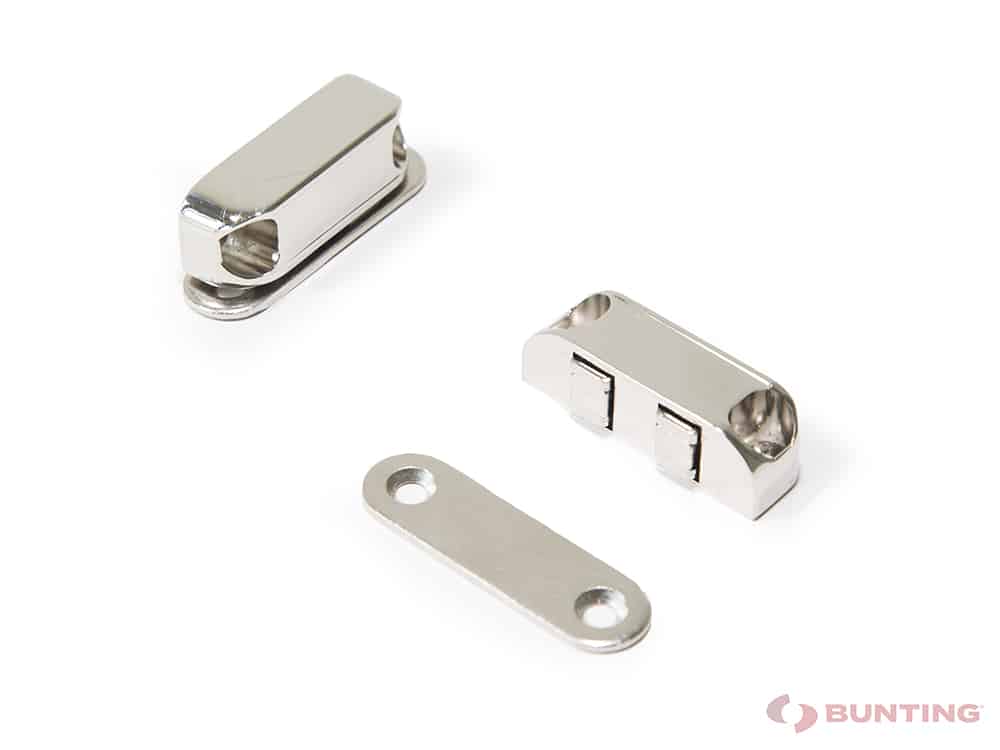 Buy Magnetic Catches online with Bunting – eMagnets™
Magnetic Catches for furniture and for industrial use.
e-Magnets UK offers a full range of Bunting Magnetics magnetic catches, magnetic latches, magnetic door stops and magnetically receptive counterplates that can be used for a wide range of furniture applications. We also offer a range of Bunting Magnetics magnetic catches that are suitable for high temperature industrial applications.
For our top of the range magnetic catches, our Elite Range is the premium magnetic catch dedicated for high end bespoke furniture and bespoke kitchens, custom built boats and ships, made to measure cabinets, etc. For an aesthetic top quality finish the Elite catches are the first choice, especially for the bespoke kitchen market. The Elite catches are silent in operation as they can work through air gaps (so the surfaces do not have to touch). They are also easy to install and give a professional quality finish.
Our other catches are still of the highest quality and can be used in many applications. They have applications around the home, at work, in the office, in public buildings and even on boats and moving applications. They can be used in furniture such as cupboards, doors, frames, panels, boards, displays, etc. The catches can be used to keep doors and cupboards closed on even in some applications open (e.g. door stops).
The Bunting Magnetics magnetic catches are supplied with counter plates but not with any fixings (i.e. the catches are supplied without any screws). Bunting Magnetics has been manufacturing such magnetic catches since the 1950's and they hold one of the largest and most comprehensive ranges of catches in Europe.