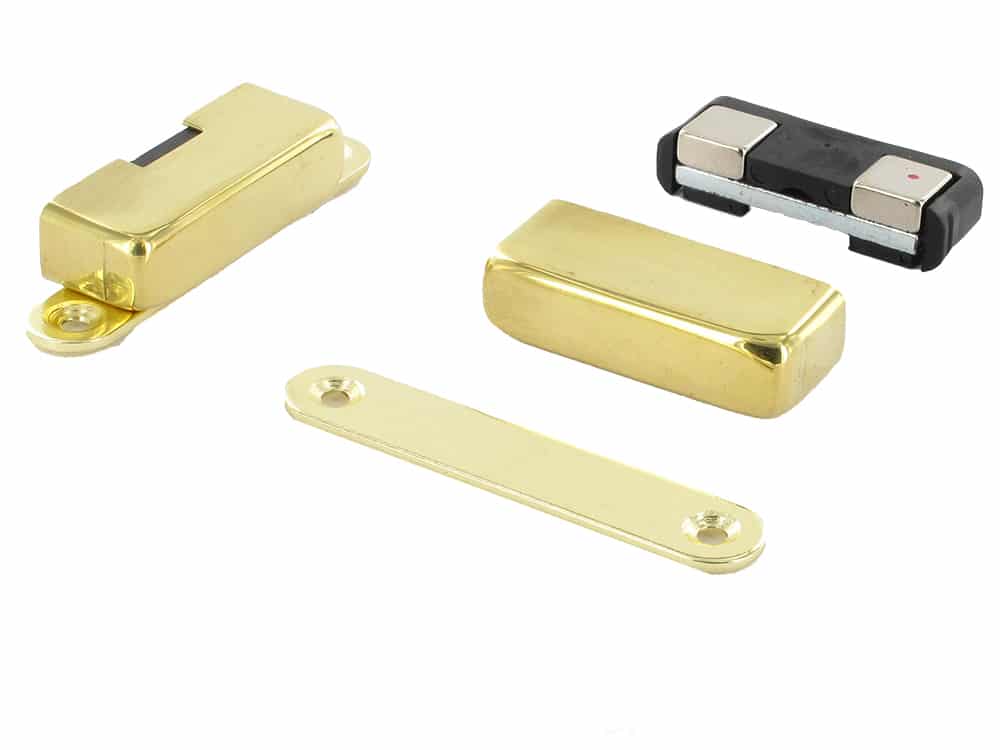 Elite S5 Magnetic Catches
Buy Elite S5 online with Bunting – eMagnets™
The Elite S5 Range of Magnetic Catches are designed to offer a 5kg holding force with a 1mm airgap, thus stopping the usual clunk sound associated with other magnetic catches, when the door closes. The all metal covers clip in place, eliminating the usual ugly pole pieces seen with standard magnetic catches and making the catch look like it should be there. Pole pieces are included. For volume enquiries please contact us.
Follow this Link to buy Leather Buffers that 'Soften' the closing of the catch.
Please note that these catches are not supplied with screws for fixing.
Part #
Description
Dimensions
Pull (Kgs)
Package Quantity
Price
Quantity
CA256AKITP
Elite S5 Stainless Steel
42mm x 11mm x 16.5mm
5Kgs
10

£

58.70

Quantity Discount Pricing
Prices per number of Packs
Min
Max
£ / Pack
£ / Magnet
1
1
£58.7
£5.8700
2
4
£54.70
£5.4700
5
9
£51.10
£5.1100
10
24
£48.10
£4.8100
25
49
£45.50
£4.5500
50
£43.00
£4.3000

CA256BKITP
Elite S5 Brass
42mm x 11mm x 16.5mm
5Kgs
10

£

46.70

Quantity Discount Pricing
Prices per number of Packs
Min
Max
£ / Pack
£ / Magnet
1
1
£46.7
£4.6700
2
4
£43.60
£4.3600
5
9
£40.80
£4.0800
10
24
£38.40
£3.8400
25
49
£37.30
£3.7300
50
£34.40
£3.4400

CA256CKITP
Elite S5 Chrome
42mm x 11mm x 16.5mm
5Kgs
10

£

46.90

Quantity Discount Pricing
Prices per number of Packs
Min
Max
£ / Pack
£ / Magnet
1
1
£46.9
£4.6900
2
4
£43.80
£4.3800
5
9
£41.00
£4.1000
10
24
£38.60
£3.8600
25
49
£36.50
£3.6500
50
£34.60
£3.4600

CA256NKITP
Elite S5 Black Nickel
42mm x 11mm x 16.5mm
5Kgs
10

£

48.40

Quantity Discount Pricing
Prices per number of Packs
Min
Max
£ / Pack
£ / Magnet
1
1
£48.4
£4.8400
2
4
£45.10
£4.5100
5
9
£42.20
£4.2200
10
24
£39.80
£3.9800
25
49
£37.60
£3.7600
50
£35.60
£3.5600