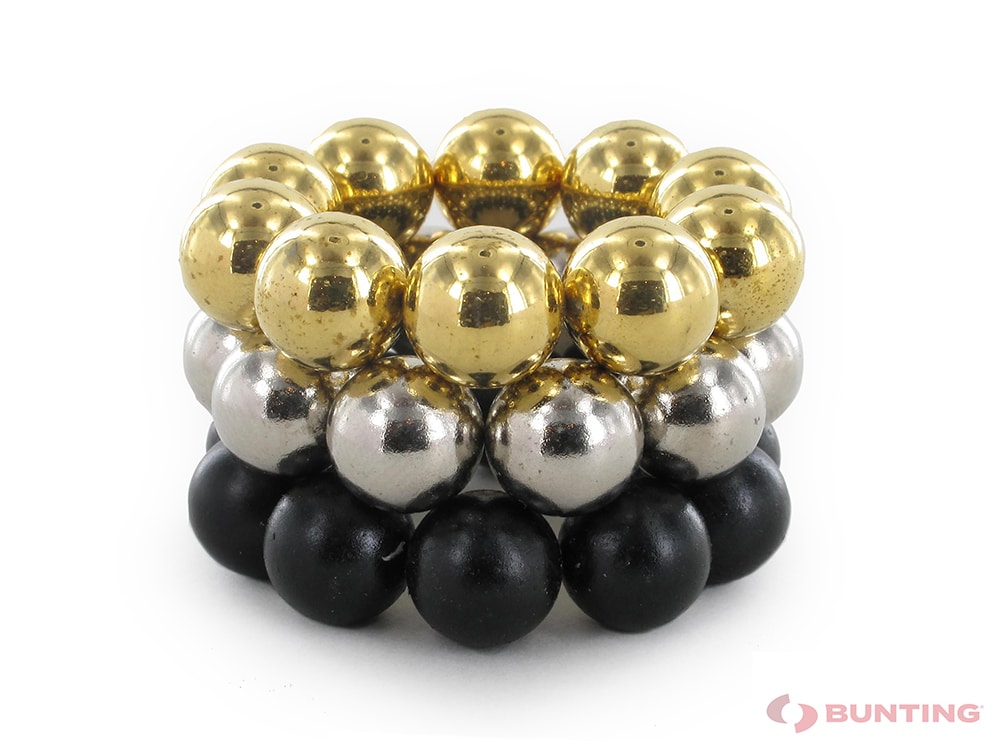 Buy Spheres online with Bunting – eMagnets™
The NdFeB spheres have an extraordinary level of magnetism which means they can be joined into chains to form necklaces and bracelets which are secure, but can also be split and then rejoined to for the chain again. This makes them a great fashion accessory and jewellery addition.
These magnetic spheres are also ideal for holding large drawings and posters onto steel white boards, mild steel walls, fridges, magnetic notice boards, etc.
They are magnetised across their diameters which prevents them from rolling out of position (with a North and South positioning like our planet Earth).
Their spherical shape makes them easy to grip for removing and repositioning. The shape is also regarded as aesthetically pleasing.
They exist in two sizes (6.4mm and 9mm diameters) and three colours (black, gold and nickel). We can possibly produce in other diameters, grades and coatings but the manufacturing process limits the possibilities (e.g. D50.4mm in N40 largest produced to date) – please contact us if you require a quotation.
Neodymium Spheres
£9.04 – £16.07
Part #
Diameter
Pull (Kgs)
Coating
Colour
Material
Grade
Package Quantity
Price
Quantity
EP222B
6.4 mm
0.7kg
Epoxy
Black
Neodymium
N38
10

£

9.04
EP222G
6.4 mm
0.7kg
22K Gold
Gold
Neodymium
N38
10

£

10.04
EP222N
6.4 mm
0.7kg
NiCuNi
Silver
Neodymium
N38
10

£

9.04
EP223B
9 mm
1.3kg
Epoxy
Black
Neodymium
N38
10

£

15.06
EP223G
9 mm
1.3kg
22K Gold
Gold
Neodymium
N38
10

£

16.07
EP223N
9 mm
1.3kg
NiCuNi
Silver
Neodymium
N38
10

£

15.06