E-Magnets Magnetic Catches
Magnetic Catches are an effective way to keep cupboard doors shut once closed. They will consist of a metal plate and magnetic catch, which create a secure closing of all types of cupboards or doors.
Magnetic Catches work so that when a door or cupboard is closed the magnet holds the door in place, the retaining clip will then click into place and the door will be held shut.
Here at E-Magnets, we offer a full range of metal magnetic catches. Our standard range includes general purpose, surface mounted, touch latches and knock-in catches.
we also offer an Elite range these are more suited to high-end bespoke furniture.
Bunting Magnetic Catches
Our next range is Bunting magnetic catches, these are suitable for industrial applications at high temperature.
Standard Magnetic catches
Our standard magnetic catches are of high quality and can be used in many applications around the home, at work, in moving applications such as boats. They are used in furniture such as doors, frames, and cupboards.
Elite Magnetic Catches
Our top of the range of magnetic catches is dedicated to high-end bespoke furniture and kitchens. They are also used on custom made boats and ships. For an aesthetically pleasing, top quality finish these are the top choice. The elite magnetic catches are silent in operation, easy to install and have a professional top-quality finish.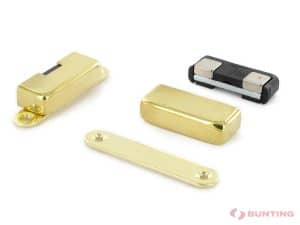 E-magnets are based in Berkhamsted, near to Hertfordshire, we have an online shop with lines open from 8 am to 5 pm. We offer world-class technical support and have millions of magnetic catches available from stock.
Online Magnetic Shop
Our online magnetic shop is security metrics certified Thawte 100% secure, we guarantee you total peace of mind when shopping with us, we do not use or share any of your personal information with anyone, and will not store your credit card details.
If you would prefer to order over the telephone, we have an expert sales teams available Monday – Friday, if you are local to Berkhamsted, why not pop in and see us and buy direct from the counter.