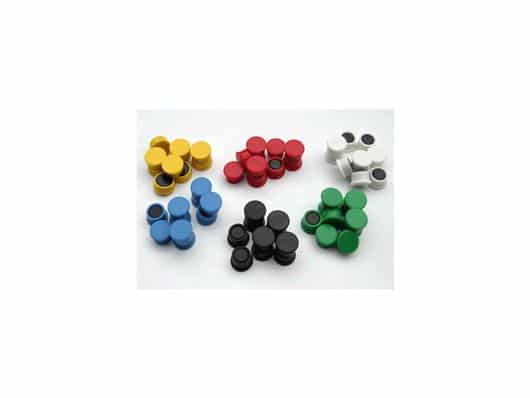 Economy Plastic Capped Notice Board Magnets
Buy Economy Plastic Capped Notice Board Magnets online with Bunting – eMagnets™
A range of economically priced plastic capped magnets available in black,blue,green,red,white and yellow
and in two different sizes.
They are small enough so as not to cover your documents or drawings and are easy to put on and take off.
Ideal for notice boards and planning charts. Ideally to be used in pairs whilst the small magnets are also ideal for planning purposes.
Part #
Diameter
Colour
Pull (Kgs)
Package Quantity
Price
Quantity
E637BK
15 mm
Black
0.2kg
10

£

3.00
E637BU
15 mm
Blue
0.2kg
10

£

3.00
E637G
15 mm
Green
0.2kg
10

£

3.00
E637R
15 mm
Red
0.2kg
10

£

3.00
E637W
15 mm
White
0.2kg
10

£

3.00
E637Y
15 mm
Yellow
0.2kg
10

£

3.00
E639BK
25 mm
Black
0.4kg
10

£

4.01
E639BU
25 mm
Blue
0.4kg
10

£

4.01
E639G
25 mm
Green
0.4kg
10

£

4.01
E639R
25 mm
Red
0.4kg
10

£

4.01
E639W
25 mm
White
0.4kg
10

£

4.01
E639Y
25 mm
Yellow
0.4kg
10

£

4.01