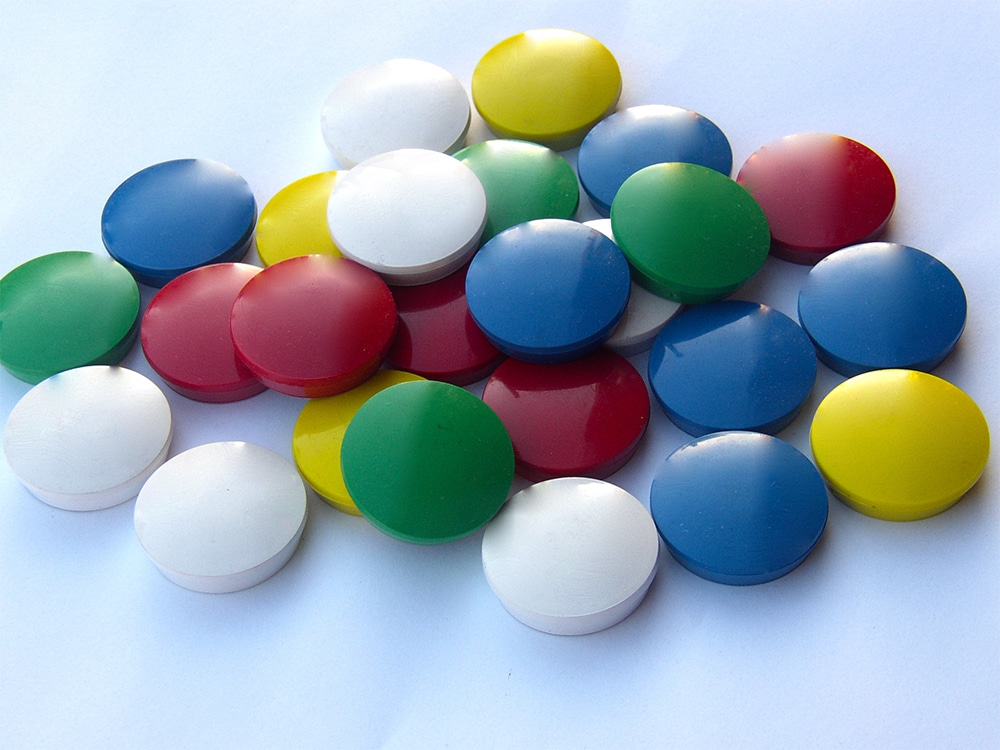 Super Strength Notice Board Magnets
Buy Super Strength Notice Board Magnets online with Bunting – eMagnets™
When all other traditional notice board magnets fail to do the job – try these.
Super strong notice board magnets have been designed specifically for the heavier/ thicker document or architectural drawings that require holding to a magnetic surface.
Super strong due to containing a neodymium magnet instead of the traditional ferrite magnet.They have a premium plastic domed cap and are available in white, blue, red, green and black.
These Super Strength Notice Board Magnets are the ideal choice if you have a glass fronted magnetic noticeboard. They can clamp to the mild steel surface even with a glass thickness of 6mm (as the glass layer gets thicker, the distance to the steel increases and the pull force reduces as a result).
Part #
Diameter
Depth
Colour
Pull (Kgs)
Package Quantity
Price
Quantity
DP070A
18 mm
12 mm
Red
2.5kg
1

£

2.26
DP070B
18 mm
12 mm
Black
2.5kg
1

£

2.26
DP070G
18 mm
12 mm
Green
2.5kg
1

£

2.26
DP070W
18 mm
12 mm
White
2.5kg
1

£

2.26
E640B-NEO
30 mm
8 mm
Blue
8kg
1

£

4.27
E640BK-NEO
30 mm
8 mm
Black
8kg
1

£

4.27
E640G-NEO
30 mm
8 mm
Green
8kg
1

£

4.27
E640R-NEO
30 mm
8 mm
Red
8kg
1

£

4.27
E640W-NEO
30 mm
8 mm
White
8kg
1

£

4.27
E640Y-NEO
30 mm
8 mm
Yellow
8kg
1

£

4.27